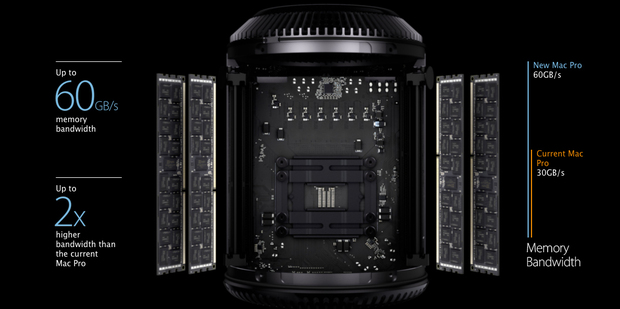 I've mentioned my concerns before about Apple not addressing its pro markets. For me, Logic Pro X is a very positive sign that Apple is, especially compared to how Final Cut Pro 10's intro shook up the professional world.
On the spectrum of Apple products, the consumer/pro difference is not exactly easy reading. Sure, iPhones and iPads have had huge impacts on consumer device markets. People can buy iDevices and happily proceed through life hardly using any of their capabilities. Just as you can with Macs, for that matter. Apple's schtick seems to be: make something beautiful and simple and hardly hint at the considerable depths beyond, something I'm constantly demonstrating when I train people.
On the Mac front, there used to be a clear dichotomy between the 'pro' Macs and the consumer Macs. For example, there was the MacBook and there was the MacBook Pro. Now there are just models of MacBooks, with even the super slim Air being a surprisingly able machine. Even the standard iMacs are pretty heavy-hitting machines capable of a lot more than just email and web browsing. Besides the fact many people only use them for that.
As I have also mentioned before, I think iDevices are evolving into 'consumer Macs' while Macs are becoming the Apple platforms for those with more serious intentions or requirements. The new Mac Pro, announced in June and on sale in a couple of months, certainly signalled serious intent.
As it turns out, Apple has entertained abandoning pro users in the past - apparently Steve Jobs did once consider making consumer-only Apple products. This was long ago, though, so breathe easy ... it was back in the days when the iMac had just established itself as a global bestseller. Ken Segall, author of Insanely Simple and a former Apple advertising consultant working for Chiat/Day, has written that in one of their regular meetings with Steve, Jobs mentioned he had been considering killing the pro products.
"His rationale was as you might expect: consumer products have an unlimited upside, while pro products are aimed at a niche market that eats up major resources."
That was long ago. Former Apple employee Ron Brinkman, who joined the company back when it acquired Shake, recently added to the debate on Apple staying with the pro market - or not. Note this was also historic and not recent.
Brinkman: "... from a company perspective high-end customers are a pain in the ass. Before Apple bought Shake, customer feedback drove about 90 per cent of the features we'd put into the product. But that's not how Apple rolls - for them ... high-end customers are high-bandwidth in terms of the attention they require relative to the revenue they return. After the acquisition I remember sitting in a roomful of Hollywood VFX pros where Steve told everybody point-blank that we/Apple were going to focus on giving them powerful tools that were far more cost-effective than what they were accustomed to... but that the relationship between them and Apple wasn't going to be something where they'd be driving product direction anymore. Didn't go over particularly well, incidentally, but I don't think that concerned Steve overmuch... ?"
This was also several years ago. Personally, I think (and hope) that since Apple can entertain consumer markets virtually ad infinitum with models of iPhones, iPads, maybe a wearable watch-like device etc, the Inc will stick with the pro Mac products simply because that's what drives innovation, and it creates a path for sales to those moving beyond consumer yet who want to stick with Apple.
And if the pro market is expensive to service, so what? Apple has loads of money.
So my fingers are firmly crossed. In a positive way.
Apple has made very mollifying moves for its pro markets more recently. But that hasn't stopped the press worldwide criticising Apple for 'not being innovative enough', having so belatedly noticed that Apple was innovative in the first place. Innovation has always been at the core of Apple - it's just that the general tech press didn't notice until the iPhone and iPad forced its attention. However, this innovation perception drives profits and stocks. Apparently now even the board of Apple has succumbed to this somewhat venal pressure - I know that's what company boards are all about, but this was reported by the overly salacious Fox News, so it's possibly pure hyperbole.
At every turn, Apple CEO Tim Cook has reiterated Apple has exciting new products in the pipeline. Some are expected before year's end. It's widely anticipated (however inaccurately that might turn out to be) that among them will be an iPhone '5s' that may include a fingerprint scanner. Theft is certainly a concern all over the world with iDevices often in the sights of thieves - note that iOS 7, which will ship soon, has beefed-up security and anti-theft features.
Turning off Find My iPhone in iOS 7, or erasing your device, will soon require your Apple ID and password. Find My iPhone can also continue to display a custom message ('I am a stolen iPhone!' for example) even after the device is erased. Your Apple ID and password will be required before anyone can reactivate it at all, making it much less desirable as booty, and for users, Safari will be a more secure browser in iOS 7.
Meanwhile rumours of a low-cost iPhone linger - it would drive adoption of iOS in international markets where the low-end dominates, and some of these markets (for example, China and India) are vast.
Interesting times ... as usual.