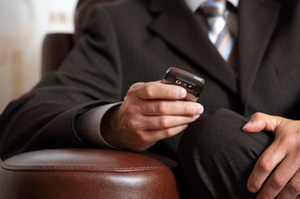 See how furniture fits in your home before you buy it. Photo / Thinkstock
MAKE IT REAL: The new IKEA catalogue taps in to your smartphone to show how products such as sofas, desks and bookcases would fit in your home. Place the catalogue on the floor as a reference marker and call up the app. The screen overlays products on the image of your room so you can see exactly how they'd fit before buying. Customers can try out 90 products for size, shape, colour and positioning. Then watch the money flow out of your bank account.
ON THE ROAD: The Online Electric Vehicle is an electric bus that can be charged while stationary or while moving and is now in use in Gumi, South Korea. The bus charges its battery wirelessly from the road itself through a receiver installed on the underbody. Power comes from electrical cables buried under portions of the surface of the road, creating magnetic fields.
A battery, smaller than that in a regular electric car, stores the charge and drives the bus. I wonder how the system copes with a fleet of buses, given that some wouldn't be able to stop above a charging point?
PEDAL TO THE METAL: If you're dedicated to the sport of cycling you may want to try Garmin's new Vector pedal-based power meter. The device puts force sensors in each pedal and also records cadence and other power metrics. Vector measures power output at the pedal, where force is applied, by gauging the slight deflection of the pedal spindle through the entire pedal stroke. Data can be sent to a compatible Garmin device or the Garmin Connect website. Power those pedals!
DOWN IN THE AIR: Clear-air turbulence can take pilots and passengers on planes by surprise because it's hard to spot or predict. Now a European joint project has worked out how to know about it in advance. A Light Detection and Ranging instrument on board an aircraft emits short-wave ultraviolet laser radiation along the direction of flight. Backscatter values then determine the density of the air ahead and alert to any fluctuations. The system is now being tested and eventually an integrated system for avoiding air turbulence may be developed for use in the planes we travel in. That's good going: making the invisible visible.
RESISTANCE IS FUTURE: In the US a company called Crossbar has created Resistive RAM computer memory modules that can retain data for up to 20 years, compared with the standard 1 to 3 years for NAND flash memory popular in phones and other handheld devices. The RRAM memory cells are stacked in 3D, meaning a single chip the size of a postage stamp can hold terabytes of data. RRAM stores bits by creating resistance rather than storing electrical charges. That means less power draw with potentially greater capacity and write life. The company has a working prototype but is not yet producing the chips commercially. Oops, those photos on your cellphone may come back to haunt you decades later.
Miraz Jordan, knowit.co.nz