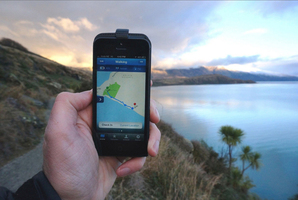 Queenstown entrepreneur Boyd Peacock wants people to get home safely.
This week Mr Peacock, 28, is launching a company that privately monitors users' locations and raises a pre-set alarm if they do not reach their intended destination safely.
Believed to be the first app of its kind in New Zealand and Australia, Get Home Safe was aimed at ''people from all walks of life'' undertaking everyday activities, such as children walking home from school alone, women heading home after a night out and people working unsupervised.
Mr Peacock hoped that one day it would prove to be ''very rewarding'' when used in a potentially life-threatening situation.
''It gives you a bit more motivation, making the world a better place.
''GHS actually calls for help when you can't. It's truly amazing and really could save someone's life,'' he said. Via a free smartphone app, downloaded from Apple or Google app sites, users register with Get Home Safe (GHS) what they intend doing and the time they would be ''home safe''.
GHS then acted as a ''guardian angel'', recording GPS location data and check-in prompts to privately watch over the user's movements.
If something unforeseen happened and the user did not stop or extend tracking as planned, an alarm was raised and the information GHS recorded was sent to pre-selected personal emergency contacts.
As the alarm was sent from the GHS servers, not the phone, users did not need a working phone or coverage for the alarm to be raised.
Originally from Te Anau, Mr Peacock spent four years studying surveying at the University of Otago.
After travelling for several years, he moved back to New Zealand at the start of this year and settled in Queenstown. He began working on the app part-time last year and fulltime since the start of this year. He has been working with Dunedin-based design, web and marketing firm Firebrand since April last year.
The idea was initially seeded when he was cycling alone one day and passed a large cliff.
The thought went through his mind that he would not want to fall down the cliff.
He stopped to check his tracking app, which showed a ''squiggly line'' depicting where he got to.
If he had fallen down the cliff, he thought it would be easy, if there was the information available, for people to find him.
Several months later, he and some friends discussed a boating accident in Foveaux Strait when a boat sank with all the fishermen's mobile phones and emergency equipment on board. He had a ''flashback'' to the idea he had when cycling.
''I thought to myself, if only someone was monitoring the use and location of a smartphone on board, it could have been apparent much earlier that the fishermen had capsized and even where it happened, the alarm could have been raised much earlier.
''GHS sends alarms independently of mobile phone coverage, so if the fishermen had set regular half hour alarms with GHS, then the alarm would have been raised as soon as they missed their first check-in and their last known location identified.''
While there were other safety apps available, most were focused on real-time ability to see where people were.
''We're more about recording of where people have been and storing it in a safe place,'' Mr Peacock said.
The development of the app had been a ''massive learning curve''. He had ''learned heaps'' and was still learning every day. While his background in surveying involved lots of maps and GPS, he had no programming or web design experience.
Mr Peacock was excited about the potential of the app, which was ''definitely'' a global market.
The idea was to launch in New Zealand initially ''just to make sure we've got a good product'', get feedback from the market and then look at going international. He had ''a whole lot of features'' he wanted to add to the app in the future.