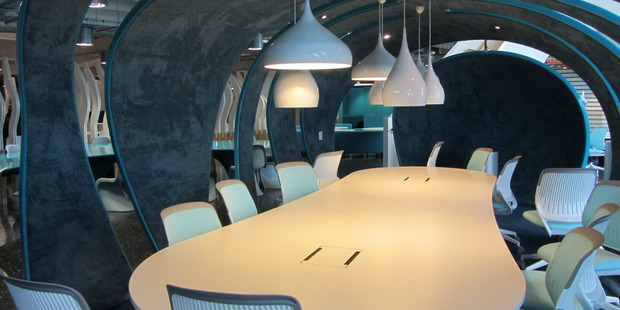 Over three months, earlier this year, I assisted the ASB Bank transfer from a desk-based environment to an unbound one in an adventurous change that preceded a move to a radically designed new building down on Auckland's North Wharf, near the Viaduct Basin.
With the move now complete, I received permission to visit the new building and see how it all went.
Almost every staff member in the central Auckland tower that headquartered the ASB in New Zealand was offered the choice of a laptop (Windows-based ultrabook), an iPad and/or an iPhone (if they already used a company Blackberry). Wisely, these were rolled out in the three months before the major building shift to increase familiarity. We fairly quickly established that those who initiated reports, projects and other ventures would probably need ultrabooks while those who primarily communicated, presented and tapped into existing information would be happy with iPads. Around one-and-a-half thousand iDevices were rolled out, iPhone 4S at around two-thirds, and one-third iPads. The devices were set up in 12-person group sessions with the security and personal information needed to function in the bank's very secure environment, and then secondary sessions were initiated to bring people up to speed with iDevice use.
Finally, casual afternoon and Friday drop-in sessions covered questions, tips, problem solving and advice.
The iPads could all securely tap into the Exchange-served environment and it was a bit strange (especially for me) to see people using Word, PowerPoint and Excel remotely, with their fingers, via iPad 4 screens. This, clearly, was not that great for working all day long; anyone who needed to do that was better with an ultrabook or logged into a terminal. But contacts, email and other communication and presenting tasks were a cinch with the iPads. Although Outlook could be accessed on the server, the Mail app was set up to sync with it anyway, as was Contacts.
At the end of June people started moving into the North Wharf building in drafts. They immediately logged into the Exchange system the bank used and carried on working.
Since the hundreds of staff members had already assimilated a major change in device use (before that, almost everyone arrived at work and logged into a terminal) the quite radical change of environment seemed to have gone incredibly smoothly.
Walking down to the new building results in a medley of smells arriving at the nostrils - fish, oil, tar. Most un-banklike. I toured the new building with Irene Bentley, part of the Change Team, responsible among other things for a dramatic reduction in paper use - around 60 per cent.
Almost everything in the new building is exposed - work areas, passages across spaces ... Even the lifts are transparent cubes. I couldn't help wondering if it made everybody more self conscious about how they looked and dressed but seemingly not - the biggest change from the old CBD building looks like a dramatic drop in tie wearing amongst the males. Amongst the women, since a lot more walking is involved, there's been a distinct drop in the wearing of high heels. All this is better for everyone - is it just me or are ties the stupidest items of clothing ever? And more daily walking has to be good for everyone. To cap that, only a very few staff members have parking options.
In the new HQ, you really understand you are working in a large group of people - everyone always was, but in silos on different floors and departments, certainly not commonly visible to each other. Now they are - need to talk to someone from another team? You can probably see them, at least after taking a few steps.
As a building, it's factory-like overall, but areas within are often playful. There are plenty of comfortable looking areas, all singularly distinguishable from each other. Ramps and walkways span open spaces and natural light is masterfully employed everywhere. The whole feeling within is one of space and light.
You can watch a time-lapse of it being built on YouTube.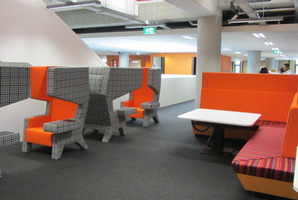 Although edges are often harsh, and concrete and glass prevails, sound is muted and at a comfortable level thanks to clever building, materials and architectural techniques. Some areas are pretty fanciful - like the fake shipping containers - they're even painted with fake cruft. Inside they are meeting and presentation areas that teams can use as needed for various tasks. Another area contains a bunch of deep blue bubble-shaped pods, one big enough to hold a large, long table surrounded by chairs.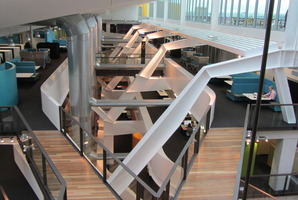 It's actually two buildings with a large, multi-floor, glass-enclosed set of walkways joining them across pedestrian access to the wharfs. There's a gym inside, available to anyone in the bank, and a balcony was awaiting the installation of barbecues. A large adjacent area covered in rocks gathers rain water for the toilets. Inside, a huge central funnel takes the warm air built up inside and vents it to the atmosphere; the use of air conditioning has been dramatically cut by good design.
Back to the devices - a tech team is based on site, managed from staff from ASB's Albany tech and server facility. With the switch to iDevices and ultrabooks, ASB's policy was that anyone could put any app on their iDevices apart from two that had raised the suspicions of security, but everyone was required to sign up with Apple IDs to use iCloud. Microsoft's free OneNote app has become the most ubiquitous - almost everyone has it, since it makes moving files between devices easy.
Apple's Keynote (like PowerPoint on steroids), Numbers (spreadsheet) and Pages appeared on many iPads while I was there, too, along with banking calculators from HP.
I know a huge amount of planning went into the change in device use and the move, but I can't help being surprised how seamlessly and effectively it was all achieved. Awesome job. (Nothing to do with me, I might add. I just helped Stuart Grimshaw, Susan Dell and Danielle Wallace with a bit of training for Annette Holt.)