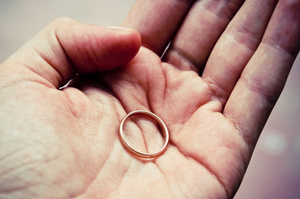 IN YOU GO: When I'm struggling with arms and hands full of groceries, dog leads and wallet I really wish the front door would just magically open when I approach. With the NFC Ring that could happen, or at least with a touch of the ring against an NFC-enabled lock. The titanium and steel ring uses passive components and never needs charging. An intermediate layer between metal and RFID layer prevents interference, while the RFID layer has two separated inlays: public and private. The ring can also be used to share information, start smartphone apps with custom settings, and save the universe. Or maybe not the last thing. It could be very handy though.
TALK ON THE GO: Sign is a language in its own right and differs from one country to another. Even sentence structure and grammar can be quite different from the language it's derived from. That means that deaf people communicating through text, such as in emails, are using a language foreign to them.
Many hearing people are also unfamiliar with sign language. Researchers from the Chinese Academy of Sciences used a Microsoft Kinect to live-translate Chinese sign language into text. The Kinect can track hand and body actions accurately and quickly. An algorithm matches the 3-D trajectory of the hands to its database to produce text. While Translation Mode allows for individual words and phrases to be translated, Communications Mode allows a hearing person to type input that an avatar displays in sign, and interprets sign back to text. Currently a research project, this could develop into a real-world tool.
GOING THROUGH: In Chene-Bourg in Switzerland the new railway track just had to go through. Unfortunately the historic 19th century railway station was in the way. As the lone historic building left in the area it wasn't going without a fight though. So the Swiss moved the 700 ton building 33 metres to one side. Preparations took months, but the deed itself was done within 5 hours. The building was moved on rails, at a cost of 1.3 million Euros. The rails are very appropriate.
GOOD FOR ANOTHER GO: The disposable paper cup your takeaway coffee comes in contains around 5% plastic that makes it not suitable for recycling. British paper company James Cropper is changing that with their new recycling technology. Their process softens the cup waste in a warmed solution, separating the plastic coating from the fibre. The plastic can be skimmed off and sent for recycling, while impurities are removed from the paper pulp so it can be used in high quality papers. One question remains: can the impurities be made useful too?
GOOD TO GO: At the Zouk club in Singapore you have to hand over your car keys when you arrive in exchange for an RFID parking card. Meanwhile in the bathrooms the toilets include a small device that instantly detects alcohol in urine and sends the result to the parking card. If the alcohol content is above the limit for driving the card is tagged and a message displays above the urinal. When the club goer tries to get their car back the card is read and those too drunk to drive are offered a ride home or asked to call a cab. More than half of drivers in a 2-week test opted not to drive themselves home. Now the system is spreading, in an attempt to put an end to the drunk driving that so often ends with fatalities. There are so many obvious ways around the system, but if it works at all then that's a positive.
Miraz Jordan, knowit.co.nz