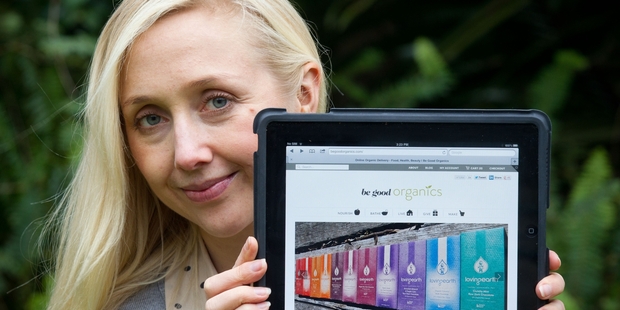 Buffy Gill spent years analysing some of New Zealand's major retailers and property firms for the local branch of one of the world's biggest investment banks.
But the former research analyst took the plunge last year, leaving Goldman Sachs to enter the retail trade. The 29-year-old launched Be Good Organics, a website specialising in organic food and beauty products, in April. Gill observed the shift towards online shopping while covering NZX-listed retailers such as Kathmandu, The Warehouse and Hallenstein Glasson.
"Online retail is growing rapidly and I think that's going to continue to happen," Gill said. "The great thing about online - and the reason we specifically chose to do it - is that we can access consumers anywhere."
Almost 6 per cent of New Zealand retail sales were made online last year, up from 5.1 per cent in 2011, according to research by PwC and Frost & Sullivan, which also found the average Kiwi spent $1659 online in 2012.
That figure was expected to grow by 14.9 per cent per annum over the next four years, the research said.
At the same time, demand for organic products is surging, with the global market for organic food alone projected grow from the US$67.2 billion ($84.6 billion) it reached in 2011 to US$102.5 billion by 2016, according to MarketLine, a research firm.
Gill said she became interested in organic products after a diagnosis of Graves' disease - an autoimmune illness that sends the thyroid into overdrive - in 2011.
Treatment options included having her thyroid surgically removed and radiotherapy, neither of which she found appealing.
Instead, Gill used lifestyle changes, including a switch to organic food, and medication. A year-and-a-half later she's pretty much fully recovered. "I got told about a month ago that I could come off my medication."
Be Good Organics has enjoyed strong sales growth and 5000 people have subscribed to the website, Gill said. About 60 per cent of sales were from overseas, mostly in Australia where many customers were based in rural areas, she added.
She said her background in writing analyst reports came in handy when producing and researching the weekly newsletters Be Good Organics sent to its subscribers.
Looking back on her time at Goldman Sachs, Gill said it was a high pressure role but making the right call on a stock could be a real buzz.
"If you call a buy and it [the share price] goes up you're a hero and equally when you call it a sell and it goes in the right direction it's awesome because the clients who have listened to you and traded on your advice have done well," she said. "But when it goes the other way ... you've stuffed up."