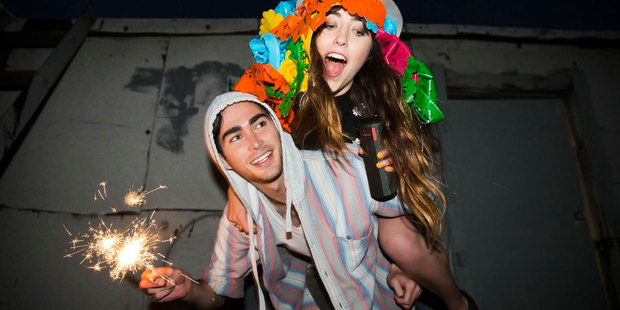 With most of us now carrying an improbable amount of music on smartphones, iPods or other digital doodads, Bluetooth speakers have really come of age. One of the latest contenders in this genre is Logitech's Bluetooth Ultimate Ears Boom. There may be more wallet pleasing Bluetooth speaker options available, but few can match the UE boom's design, portability and audio quality.
Look and feel
At about the size of a small coke bottle, the UE Boom packs a surprising punch. Essentially 60mm cylinder that's about 190mm in length, the Boom weighs in at just under 550 grams, making it a highly portable audio option, and a great travel companion. That the Boom's weight is concentrated at its base also means it is also able to be stood up (a small hook on its top also means it can be hung). Sheer design cleverness aside, the boom is also pretty durable thanks to a sturdy rubberised outer and a tough fabric covering its speaker grills. The review unit I was supplied with was finished in a striking white and orange design that could best be described as pleasantly distinctive.
In Use
Operating the Boom is simplicity itself. For a start its controls are minimal to the point of being sufficiently idiot proof that even this writer managed to get it up and running with no RTFM (reading the freaking manual). The controls consist of a large volume up and volume down button plus a power button and small Bluetooth pairing button on the Boom's underside. Paring the Boom with my iPod touch was seamless; even if it initially startled me (the Boom played a loud bongo drum roll to let me know it'd successfully paired up with my iPod).
Performance
For my first listening I decided to crank some Fat Freddy's Drop through the Boom. Anticipating a tinny treble-fest, I was pleasantly surprised to note that the Boom cranked out audio that contained a healthy dollop of low-mids complete with a smidgeon of bass all of which made for some surprisingly fat sound. Rather than assailing my ears with shrill chipmunk punk, the Boom delivered clear and surprisingly warm audio, which is no mean feat considering the sound was being delivered via Bluetooth.
Thanks to its cylinder shaped design, the boom was also able to bust out a 360-degree sound field which equated to room filling audio. How the Boom achieves with just two 1.5" drivers and two 2" passive radiators, is probably down to some particularly clever digital signal processing and a tuned case design.

Logitech also supply a free UE Boom app for both iOS and Android, that lets you pair up two Boom's for a stereo Bluetooth speaker configuration. Even if you're not prepared to plunk down another wedge of cash for a second Boom, the app is still worth checking out as it'll still also allow you tweak a solo Booms audio. Logitech's spec blurb touts the Booms operating life as being up to 15 hours off of a single charge. In practice this translated into 11 to 14 hours of use, depending on factors such as the volume the Boom was being driven at and its distance from the Bluetooth music source (which according to the Boom's spec sheet is up to 50 metres).
Verdict
There's a lot to like with the UE Boom. Not only does it sport a peeper pleasing design. While it mightn't deliver audiophile grade acoustics, the sound it did crank out was surprisingly good, especially when its petite and highly portable form factor was taken into account. If you're the proud owner of a sizeable music collection on an iPod, smartphone or other Bluetooth capable music gadget and want to share your sounds, the UE Boom is definitely worth checking out.

Tech Specs
RRP $249
Size: 60mm Diameter x 190mm long
Weight: 550g
Connectivity: Bluetooth
Battery: Lithium Ion (Up to 15 hours of playback),
Amplification: Active
Frequency Response: 90 - 20000 Hz
Output level (SPL): 88 dB
Controls: Volume, Power, Bluetooth Pairing