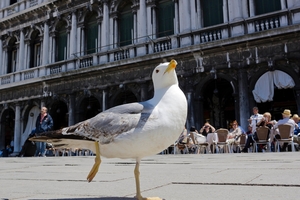 It is a city without streets, but Venice has finally been conquered by Google Street View.
Google's specially adapted fleet of cars were useless in a city built on water, so its picturesque piazzas, palaces and churches are being photographed by employees with giant cameras strapped to their backs.
They are tramping along its narrow alleyways and across its stone bridges with backpacks containing electronic "eyes" which take 360-degree views.
The cameras, which each weigh 15kg and are powered by a lithium battery, have attracted a lot of attention in Venice, with tourists stopping to take photographs of the device - even as it captures images of them.
The Trekker backpack camera was developed to film places around the world that are accessible only on foot, such as the Grand Canyon and the tallest building in the world, the Burj Khalifa in Dubai.
In other parts of the globe where cars cannot venture, the company has used specially fitted tricycles to photograph pedestrian-only zones of towns and cities, and even snowmobiles to capture images of ski resorts.
The peculiar challenges of Venice may even necessitate the development of Google gondolas.
"We'll have those as well, just have patience," Daniele Rizzetto, operations manager for Google Street View in Europe and the Middle East, told La Repubblica newspaper.
The images of Venice will be online within the next few weeks.
Launched in 2007 in the United States, Google Street View has expanded to nearly 50 countries around the world, from Andorra to Ukraine.