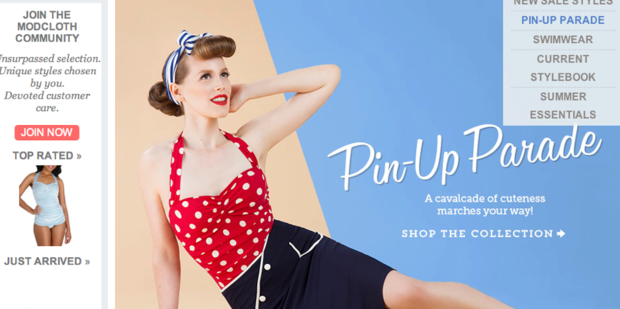 The third developer I visited in San Francisco was even more unlike the others than the others were to each other. The online vendor of women's vintage and vintage-style clothing ModCloth was started by high school sweethearts Susan Gregg and Eric Koger. Susan had an interest in vintage clothing and was amassing quite a collection, and while still studying at Carnegie Mellon University in Pittsburgh, she started selling some of her excess vintage clothing online. Her boyfriend Eric (they have since married) was studying at the same institution, and he helped her launch a website in 2002. ModCloth grew like topsy from there. Now, just over a decade later, the firm is headquartered in San Francisco's Market district (the site I visited) while retaining an office and despatch warehouse in Pittsburgh.
What makes it markedly different to the other companies I visited is 1/ it's an online business, so it's platform independent, and indeed most of the computers at the San Francisco site I saw were non-Apple PCs.
2/ Almost all the products sold by ModCloth are expressly for women - there were only two or three products listed for men specifically in the company's large and ever-expanding catalogue.
Finally, 3/ the staff at ModCloth's San Francisco office is overwhelmingly female. While women were represented at the other two companies (Smule and AutoDesk), they probably had a more typical ratio of men and women in this industry; ie men in the majority. At ModCloth, the only men I noticed were some of the developers and those handling web and traffic 'backend', which is located in San Francisco and to some extent in Pittsburgh.
ModCloth has grown fast. It now has 400 staff in three centres, including an office in Los Angeles. The business model is of an online community united by its shared interest, and ModCloth's modus operandi is clearly about engaging, retaining and satisfying this community. The customer is referred to constantly as 'she', quite deliberately, and in a familiar and friendly way. You can tour founder Susan Gregg Koger's 'virtual closet' and she still blogs on the site every month.
As Jennifer Grasso, Director of Product Management and Customer Experience explained, ModCloth buys vintage-inspired clothes in small lots from designers and studios and tests them on the market using interactive approvals, but it even lets customers add their own home-made designs. Customers can upload pictures of themselves dressed in their own designs for comparison, and to help potential clients visualise themselves in the same sorts of clothes, and some of these user-generated designs have the potential to go into production by one of the 200 or so labels ModCloth vends. In other words, ModCloth is not just about fashion but covers the entertainment and gratification of a like-minded community, with the facility to communicate and share thoughts and designs across that membership. There are fashion, beauty and lifestyle categories, a news and contests section and videos posted up by ModCloth 'curators'. What's interesting is that the style focus is clearly retro but the business has always been 100 per cent online, with no bricks-and-mortar outlets at all, and the online offering is constantly being refined and improved.
So why was I there? ModCloth has been working in the mobile space since only last year. Fontaine Foxworth, head of mobile, told us ModCloth's efforts started
with just a mobile version of the site, but they quickly noticed 80 per cent of the traffic was from iOS. Naturally ModCloth started thinking about an iPad app as an engagement tool. The app, which is universal so the same version works on iPhone and iPad, has push notifications when an order ships, lets people know when inventory is low.
But what ModCloth has noticed is that the app has created more customer loyalty, and app users tend to spend more than typical online clients. With app users at only around five per cent of the total of ModCloth's reach, app users have been found to visit way more often and come back a lot more.
Being able to browse with a device in your lap also gives you more freedom to connect - in the lounge, at a café or in a work break.
The company also really appreciates the retina screen of the iPad 4 and iPhone 4S and 5. Clients love if for closely inspecting clothes going "right into the cloth". Fontaine said the app also encourages users to review garments. "We get three times mores loves on the app even though there are ten times more users in browsers."
Several other factors stand out. With the app, browsing through the collections is used much more than search, since the experience is so pleasurable. Wishlists are customisable and products can be marked as favourites.
Most of ModCloth's business is, of course, in the US, with around 10-20 per cent of traffic from offshore, but as international sales increase, ModCloth has instituted a 60-day returns window. Keep in mind that for us Antipodeans, the seasons are reversed, so if you visit the site now, you'll see their summer collections.
As a model of a modern business using the internet, ModCloth stands out as a 'social shopping experience'. While the company caters to a niche market it knows well, it makes continuous efforts to know it more effectively, engage it more and to serve it better; part of this involves inviting women into the San Francisco office to preview new cloths and shoes.
ModCloth is also a great example of how to build and engage a community with a very well-tailored app.