As a study shows tweeting may be more addictive than cigarettes and alcohol, TV's Ali Ikram tells how Twitter has got him in trouble at work and caused ripples in his marriage - but he won't quit.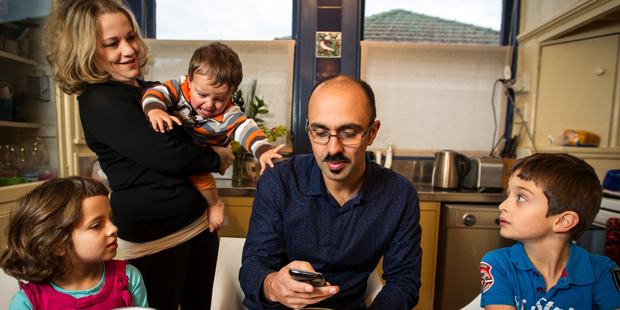 Twitter. Even the name is ridiculous. If I told you I "booped" or "qwanged" or "quiffed" 50 times a day, it would make me strange, an escaper from Dr Seuss' day surgery. But "tweeting" an estimated 14,300 times over five years and amassing 7000 followers has been, for me, a deadly serious pursuit.
My phone is the first thing I reach for in the morning, and the last thing I check at night. At stop signs, at the dinner table, on the loo even, it is my constant companion.
Interestingly, and unlike the other more "high-profile" addictions - alcohol, gambling, sex - I have got into major trouble only once so far.
The time I really embroiled myself in trouble because of my incessant tweeting unfolded like many others: tweeting witty thoughts and aphorisms as they came to me, which is to say pretty much every 20 minutes. Nothing unusual there, then.
But the next day at work I was summoned to the office of TV3 bureau chief Keith Slater.
Keith is the most experienced television journalist still working in this country. In his long and illustrious career he has covered war, pestilence and famine.
Above all this, he is a gentleman, which is why the chill in his normally jovial voice was so worrying.
That morning, he told me, he had received a complaint from the boss of Sky TV UK, communicated to us by their Australian arm. In this age of tabloid phone hacking, the Leveson inquiry, and the general antsiness about all matters of surveillance, one of Sky UK's stars felt his privacy was under threat - and the culprit was me.
For the record - and with some trepidation, given it caused an international incident - I reproduce here a full transcript of the message to Sunrise presenter Eamonn Holmes that caused the brouhaha: "@EamonnHolmes watching you eat a sandwich here at tv3 in NZ what's in it? Looks yummy!"
That was the tweet that, for the first time, once its sheer wrongness was made obvious to me, made me question my adherence to the craft of tweeting.
I mean, surely Eamonn Holmes should be free to munch away in private without becoming unwittingly embroiled in "the sandwich heard around the world" fiasco.
I will take this opportunity to apologise to Eamonn for my comment on his sandwich, to the bosses of Sky in England and Australia for wasting their time, and to Keith for breaking television's code of silence.
As I well know, feeds from other broadcasters seen only in-house should not be discussed in public.
Others may have been more fully chastened, but for me The Timeline (the repository for Tweets from those you follow) is a rapacious mistress.
It wasn't long before I was back to my old tricks: plucking my phone from under the bed first thing in the morning to see if, while I slept, my posts had hit pay-dirt in Gambia.
Or if Aussie pop star Natalie Bassingthwaighte had favourited them.
After all, according to the University of Chicago, social media is more difficult to abstain from than nicotine and booze.

Twitter is a self-esteem stock market where quips and aphorisms are traded for approval. I actually tweeted that line once. I got four re-tweets (meaning others posted it to their followers), and three favourites (meaning the tweet was liked, but not enough to share). Not a bad result but not as good as others get for lesser material.
At its best, Twitter foments freedom and revolution in countries suffering under tyrants.
At worst, it has transformed that most beautiful and sacred thing, communication between one human being and another, into a game of Pac-Man, where we compete to clock the art of conversation.
And nowhere is that a more corrosive influence, I would suppose, than within the holy institution of marriage. I could tell Twitter was having a slightly less positive effect than one would have hoped on my own "institution" when my wife Dita turned to me one day and said, "there are three of us in this marriage, Ali".
My mind flashed first to Princess Di's doleful eyes as she unburdened her soul to the outwardly still (though inwardly gleeful) interviewer Martin Bashir during the monarchy-rocking Panorama TV special.
But, in our case, this menage a trois was completed not by Camilla Parker Bowles, decked out in gabardine and jodhpurs and ready for a chukka. The "other woman", in fact, wasn't a woman at all - more a portal to another world. Black, square and with a shining face, she would suck me in and not spit me out until the trance was broken. Just as the apple had caused discontent in the Garden of Eden, an Apple product was disrupting the harmony of my sanctuary in Mt Eden.
The night I sent four tweets while dining at Cobb & Co with my young family, including one sent from the men's toilet, I could see that things were moving in the wrong direction. Did it stop me? Did it heck.
Perhaps this overwhelming desire to inhabit the digital realm really has been preordained, or at least encoded into our DNA in some way. George Orwell suggested as much in 1949, foreseeing the overbearing surveillance society that has now come to pass.
What he didn't predict with quite as much accuracy was how we ourselves would be complicit in the whole thing, tweeting everything barring our bank account details and mother's maiden name to anyone who shows the slightest amount of interest.

Sometimes, of course, the audience for our every mind meander shows a little too much interest - and it comes back to bite us. That is what happened to my colleague in all of this, comedian Raybon Kan.
During the Rugby World Cup, Raybon tweeted something perhaps a little ill-judged about the German company adidas and Auckland public transport.
"Nice German company," he wrote. "They should know how to load thousands on to trains."
Suffice to say, some didn't receive the tweet with the humour in which it was intended.
"That was like an out-of-body experience," remembers Raybon. "Sometimes in a live show, you'll do a joke that gets a groan.
"But this was like the groan got union representation and started picketing. To be honest, I got a lot of support, but the question of what is taboo and who gets to decide is no fun.
"As a comic and as a person, you don't want to be right-on all the time, like some human rights manifesto."
Raybon says he was attracted to Twitter about four years ago, resisting before then because he didn't respect a medium whose top attraction was Ashton Kutcher.
"I couldn't see the point," he says. "I even remember asking a friend what the difference was between a tweet and a status update. It got philosophical."
To be honest, he's still not entirely sold on the medium, having pulled back his use after realising there was nothing emptier than people live-tweeting during a reality TV show.
"Twitter is a super way to get distracted from doing anything useful. I'm astonished what can be said in a tweet, but ultimately it's a sign that human attention span is being eroded.
"It's got to the point where if somebody does three tweets on one subject, I think: 'Oh, stop going on about it', when really they've hardly said two sentences."
Raybon isn't the first famous person to withdraw his energies from tweeting. Miley Cyrus, Alec Baldwin and Adele have all done similar. Ordinary mortals have also escaped Twitter's clutches.
Bill Blackstone or @SirWB (neither his real name) is a 42-year-old project manager and married father of four. He found Twitter gave him the intellectual stimulation and variety lacking in the small town where he lives.
Because of his job, Bill has to be circumspect about what he says. Yet the anonymity of tweeting allows him speak freely and have a voice.
But you can have too much of a good thing. Late last year @SirWB imposed a three-month ban on himself.
"I did it to prove to myself that I could make a clean break, and to prove a point to my family. They got a bit sick of me being glued to an electronic device, I guess. Twitter, due to its persistent flow of tweets, certainly never lets up."
He "unfollowed" everyone too, but says when the tweeps hadn't heard from Bill in a while, those who had his phone number texted to check he was okay.
"See, Tweeters do care," Bill says. "I thought that was very nice of them."

Whether they care or not is a secondary concern for the prodigious Twitter enthusiast @pinkdeedle.
The woman behind the account is 25-year-old mother of one, Michaela Smith. Since signing on four years ago she has given the world more than 43,000 tweets and attracted 1,036 followers. According to her bio, she likes bubbles, boobs, has 27 tattoos and, intriguingly, one nostril.
No one has given more of themselves to the medium than her.
Blocked by everyone from Britney Spears to Drew Neemia for various slights, she happily admits most follow her because of her habit of getting tipsy and sending pictures of her rather ample bosoms.
When she gets a cold, @pinkdeedle will tell you the colour of her phlegm and post an Instagram picture to help the unimaginative.
A bout of tonsillitis yielded pictures of her inflamed throat.
The woman, however, does have boundaries, saying she wouldn't post pictures of her bottom half, or anything "sexual" in nature.
Her boyfriend, Padraig, drives trucks and doesn't get it. "He can't stand it, thinks I'm ridiculous and should get a life - he doesn't even have Facebook," she says, as if her partner has crawled straight out of the Dark Ages.
Michaela's mother finds all the boob baring a little hard to bear, although she did get to bask in the glow of her daughter's finest online moment recently, when a PXT of her breasts won mother and daughter a $50 voucher from the local bar, The Thirsty Whale. It bought them lunch.
@pinkdeedle says she doesn't worry about the opinions of others: "It's not like they [the pictures] will end up in a magazine and they'll do a story "Michaela Smith, topless!" I'm not going to be Miss New Zealand. That wouldn't happen in real life. I would have a few drinks and get topless. I talk a lot in real life so I talk a lot on Twitter."
Sometimes, even by her own admission, she goes overboard. Her complaints about a bonus received from a company she did work for got back and they sent her the screenshots with the message it was unacceptable.
But one should be permitted mistakes online. For perspective, Tolstoy's War and Peace is 580,000 words long. If she keeps going at the current rate @pinkdeedle will have tweeted that sheer volume of words by this time next year.
Twitter is for those who want to keep a secret diary but can't stand the thought of no one reading it. I posted that once. It got heaps of retweets but only because it was reposted by Ruban Nielson from Unknown Mortal Orchestra. I remember when he had fewer followers than me. But since then he's put out an amazing album, played on the Late Night With Jimmy Fallon show and real-world respect has become twitterati love.
I must admit there was a time when my interest started to lag. My response wasn't to quit or back away slowly. Instead, I started following people, everyone who followed me, everyone who as much as tweeted me until my timeline was as crowded and noisy as a Karachi bazaar.
From my tweet deck now I see it all. The births, the mourning of death, the tantrums, the lost souls, the trolls.
Sometimes I reach out, and other times I hope just venting helps. Thousands of tiny voices clamouring, gasping for the same oxygen, coursing by in a rush. Humanity as always - urgent and temporary.
One more thing: Natalie Bassingthwaighte never did favourite me. But who needs her when you've been retweeted by Russell Brand?