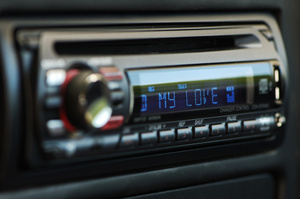 BETTER THAN BEEPS: In the city of Guayaquil, Ecuador ambulances carry low-power broadcast antennas that override all AM and FM stations within a one kilometre radius of the vehicle. The ambulance can broadcast a message telling drivers to make way. That means that even if drivers have the windows rolled up and the radio turned up loud they still can't overlook the emergency vehicle nearby. Ambulance response time has risen 40% as a result. That's a very clever approach.
WHAT'S THAT LIGHT FOR?: Brake lights are handy. When they illuminate on the car in front of you it's clear you need to slow or stop. But what say you can't see the lights because the car ahead is round a curve? Ford are here to help. Their experimental Electronic Brake Light sends a wireless signal to illuminate a dashboard light on following vehicles.
A study found the technology could enable drivers following behind to brake earlier and potentially avoid a collision. Surely that kind of data transmission could be more comprehensive and more useful, including things like speed and direction of travel.
IT'S A SHAME TO WASTE WASTE: In Spain Chiclana de la Frontera's sewage plant will soon combine wastewater, sunlight and algae to produce renewable biofuel. The 200 square metre plant harvested its first crop of algae last month and expects to fuel its first car by December. The project is expected to grow to cover 10 hectares and fuel 200 cars or 10 city garbage trucks per year. One key point is that the sewage plant is cheaper to set up and run than a conventional plant. It may not produce a lot of fuel, but if the plant's cheaper then it definitely makes sense.
BAGS OF INK: Now you can handle much of the paperwork for a flight electronically, thanks to smartphone apps and etickets. Check a bag though and it still has to have a paper tag printed off and attached by hand. British Airways hope to replace those paper tags with a reusable e-ink luggage tag that connects with your smartphone. An app will send your destination and a barcode to the e-paper screen. The new tag remains compatible with current systems and could speed up checkin and bag drop enormously. Or learn to travel light and avoid the whole problem.
KONNICHI WA: Kirobo and Mirata are two new astronauts for the Japan Aerospace Exploration Agency. They should head into space in August.
These two can recognise faces and voices and communicate in Japanese.
That's not bad for a couple of robots. The two tiny robots, each around 300 cm tall, judging by the video, are part of the Kibo Robot Project which aims to test human-robot interactions and to inspire humans back on Earth by showing how well a robot can converse in difficult circumstances. And who needs giant robots anyway?
Miraz Jordan, knowit.co.nz