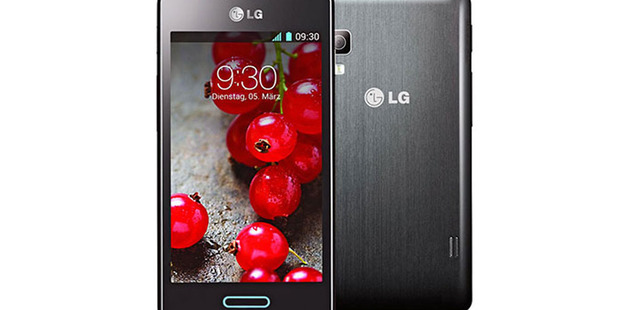 The second phone out of the LG stables is the Optimus L5II smartphone, a refresh of the original Optimus L5 that I was tempted to call Megatron.
Look and Feel
Finished in a black on silver laser etched case, the L5II features rounded edges and corners, giving it a premium look and feel. Its overall finish feels pretty high-end and in the hand it felt solid and comfy. This said, like most other current generation smartphones, I'd be wary of dropping it onto a hard surface so a protective case is probably a good idea.
Specs stuff
The L5II runs Android (ice cream sandwich) and is powered by a 1GHz single-core processor. While this combination doesn't compare well with the quad core monster devices already on the market, the addition of a 1700 mAh battery and solid improved power management capabilities saw the L5II lasting a full day and half of typical use before demanding some quality time with its charger.
Compared to its pint sized sibling, the Optimus L3II, the L5II is a little more spacious at 11.84 x 6.22 x 0.92 cm, even if its 4" display still felt a little on the small side. That said, its IPS LCD WVGA touchscreen sports a resolution of 800 x 480 pixels, and viewing angles were fine, even under direct sunlight.
LG have also bundled a bunch of apps on the L5II. The LG QuickMemo app proved really useful, allowing me to quickly gab and share notes. Using Quick Button I was also able to customise a hotkey on the phone to launch any app, which proved insanely handy.
Thankfully I didn't get the chance to test out Safety Care, but its wisdom is pretty apparent as it offers Emergency Call Forwarding and can send my location. Most importantly of all it can also be configured to contact friends or family in an emergency.
I'm not normally a huge fan of bundled apps as most are thinly veiled marketing deals prompting you for money before they're usable or they're so craptacularly bad that they fall into a category I affectionately call shovel-ware. Thankfully LG seems to have avoided this.
Clever Stuff
One particularly neat trick backed into the L5II is the addition of a LED surround on the physical home button that'll provide at a glance visual notifications of incoming messages, calls etc. It is configurable and I was able to get a pretty cool but slightly over the top rainbow effect. Handily it also turned red when the battery was about to die.
Verdict
The L5II is a solid mid-range smartphone with all the specs and features you'd normally expect in a slightly more higher end handset. While pricing has yet to be confirmed (prices will vary considerably depending on the telco and mobile plan you choose), the L5II is a good choice for budget buyers wanting a bit more power.
L5II Tech Specs
OS: Android Jelly Bean 4.0
CPU: 1 GHz Single Core
Display: 4.0-inch WVGA
Storage: 4 GB, 512 MB RAM, microSD card expansion (up to 32GB)
Camera (rear): 5.0MP
Camera (front): VGA
Battery: 1,700mAh
Size: 117.5 x 62.2 x 9.2mm