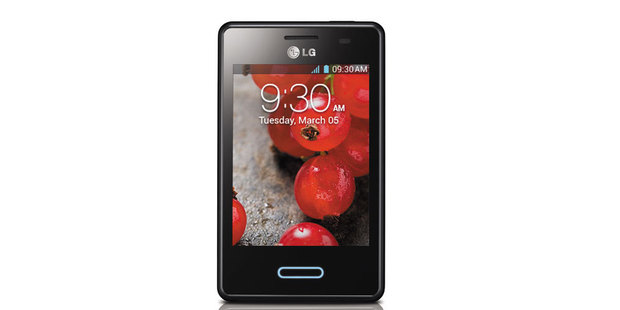 Sometimes the smaller things in life can deliver a particularly sweet surprise. In the case of LG's Optimus L3II smartphone, LG have hit the mark for budget conscious smartphone buyers wanting some decent bang on a per bucks basis. It may sound like an extra from the Transformers movie, but the Optimus L3II is the follow up phone to the L3 launched last year. Specs-wise the phone may not challenge HTC, Samsung or Apple, but it does deliver pocket pleasing value for money in a very pocketable form factor.
Under the Hood
Where the original L3 was powered by an anemic 800MHZ CPU, the L3II's spec has been bumped up with a single-core 1GHz CPU. That said, LG chose to keep the L3II's screen to a tiny 3.2" sporting QVGA resolution. Although the L3II's screen resolution was only 240x320, I was pleased to note that the display sported decent viewing angles, and colour reproduction for a budget phone.
The L3II's 3.2" screen may fly in the face of the gazillion-inch monster phone screens currently hitting the streets, but a smaller screen does confer the L3II with a highly useful side benefit: It is easily pocketable, which makes it ideal for a night out on the town, putting it in one's pocket or purse wont result in the lining being ripped out of a jacket or vast amounts of purse and handbag real-estate vanishing.
LG have also chosen to sensibly limit the amount of shovel-ware and cosmetic crappery that most other manufactures seem to heap on top of their Android phones. The upshot of this is that the L3II is surprisingly responsive and intuitive in use.
While the L3II was fine for checking email, the odd game of bejeweled or even some casual surfing, its paltry 4GB internal memory and 512MB RAM means it isn't going to be the device of choice for anyone with massive media collections and a propensity for collecting podcasts.
Camera
I wasn't terribly surprised to note it had a 3-megapixel camera on its rear. Even though the camera spec seems pretty average as 12 megapixel or better image sensors have become the norm, I was still moderately pleased with its performance under daylight conditions. Later in the evening and indoors on a gloomy winter day, some image noise was noticeable and camera shake translated into blurs unless the LED flash was used.
Verdict
Given its estimated RRP of just $170 (prices will vary widely depending on which mobile plan and telco you choose), the L3II's spec was a pleasant surprise. It mightn't challenge the Galaxy, iPhone 5 or HTC One, but it does offer great value for money in an easily pocketable and well specc'd form factor.
L3II Tech Specs
Display: 3.2" QVGA IPS LCD
CPU: 1GHz single-core processor
Storage: 512 MB RAM, 4 GB of internal storage
Camera (rear): 3-megapixel rear camera
Camera (front): VGA
Battery: 1,540mAh battery
OS: Android 4.0
Size: 102.6 x 61.1 x 11.9mm