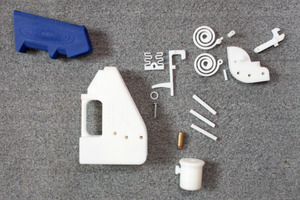 New South Wales police have created and fired two 3D-printed firearms, the state police commissioner Andrew Scipione revealed in a press conference today.
The police used the Liberator pistol blueprints produced by US-firm Defense Distributed, printing out the weapon using a AU$1700 desktop 3D printer and AU$35 of materials, Computer World reported.
"The results of the demonstration were disturbing and our worst fears were realised because it showed the effect it can have on the gun handler and the victim," Scipione said in a statement.
He said the guns do not have any of the safety standards, quality control or protection for the user that commercially-produced firearms have.
"The message goes out to anyone with the resources to purchase a 3D printer. Don't attempt to use a 3D printer to produce a weapon. A 3D-printed gun is not potentially dangerous, it is dangerous."
Scipione said 3D printing technology has many positive uses, including medical, scientific and industrial applications, and should be "encouraged, embraced and harnessed to do good, not evil".
"3D guns are made of thermo-plastic or synthetic material which makes them undetectable in airport X-ray machines. The terrorism implications of such a weapon are huge," the Commissioner said.
"3D guns are undetectable, untraceable and easy to manufacture."
Scipione said anyone producing a 3D firearm was committing at least two offences - manufacturing a firearm and possession of an illegal firearm.
"We will prosecute offenders caught manufacturing, selling, owning or in possession of a 3D gun."
- nzherald.co.nz