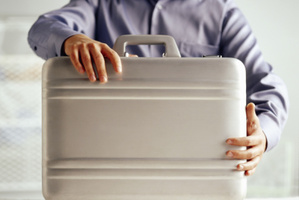 HEALTH IN A BOX: We'd like to think that hospitals and medical clinics are places full of light and life-saving equipment. In many parts of the world though they are dark and empty, lacking a reliable source of power, or funds for supplies. The WE CARE Solar suitcase brings a bit of sunshine to those in need. The portable, cost-effective solar suitcases include high-efficiency LED medical task lighting, a universal cell phone charger, a battery charger for AAA or AA batteries, and outlets for 12V DC devices. The basic system comes with 40 or 80 watts of solar panels, and a 12 amp-hour sealed lead-acid battery. That's one suitcase that could save lives.
THE HIVE MINE: Landmines are a particularly nasty remnant of many wars. There are still around 250,000 buried in Croatia, Bosnia-Hercegovina and other countries from former Yugoslavia thanks to the wars of the early 90s. As in other parts of the world, locating the buried mines is very costly and extremely dangerous.
A team of Croatian researchers is turning to an unusual solution: they're training honeybees to associate food with the smell of TNT. Bees can detect odours even 4.5 kilometres away. The idea is to release them in areas that have already been de-mined to cluster around any that may have been missed. Why make robots for a job bees can do naturally?
PLAYING WITH FIRE: Perhaps you're a gamer who wants an edge over your fellow gamers. Are you prepared to be shocked for it? The Foc.us gaming headset uses transcranial Direct Current Stimulation to increase the plasticity of your brain and make it work faster. The device sends a small electric current through the prefrontal cortex using a 2 x 2 focused electrode array. It can be controlled manually through a touch sensor or by an app on a compatible mobile device. This sounds like the kind of device others should report on before you buy.
COILED BRAINS: Usually a CT scan requires a huge and expensive scanner, but there are many places in the world where such technology is simply too expensive. Now researchers are testing an inexpensive headband that can tell if you've experienced brain trauma. The volumetric electromagnetic phase-shift spectroscopy clinical coil checks the conductivity of brain tissue for perturbations that could indicate swelling or bleeding. Tests so far show the device can distinguish between healthy adults and individuals known to have brain trauma. There's a safe use for a headset.
STICK TO THE BEAT: Doctors can tell a lot from your heartbeat, but you may need to be wired up to monitoring equipment. A team at Stanford University is developing a tiny monitor as thin as a piece of paper and the size of a postage stamp that could fit under a sticking plaster on your wrist. Their heart monitor is made from a layer of rubber covered with tiny pyramid bumps. The flow of blood deforms the pyramids slightly which separates outer layers of flexible electronics, creating a change in the electromagnetic field and a current that can be measured. The team are now working on making their sensor wireless. A sticking plaster on the wrist beats a headset any time.
Miraz Jordan, knowit.co.nz