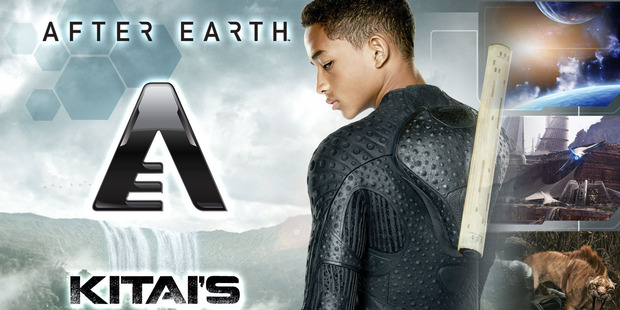 A Kiwi company I have mentioned before, founded in New Zealand and based in London, is about to move some staff to Los Angeles. That's partly due to the global release of an interactive app for the sci-fi thriller movie After Earth, starring Will Smith and his son Jaden, and aprtly to other cinematic and publishing ventures the company is already hard at work on.
BeyondTheStory has made companion apps to books before, including for Ian Banks and Alexander McCall Smith, and for UK historian Dr David Starkey's book Crown and Country, bringing to life 2000 years of the Kings and Queens of Britain. Then BTS created the interactive and instructional Anne Frank app, which brings the tragic story of the Jewish victim of the Holocaust to a new and richer level, adding audio-visual touches both historical and personal. I talked about this app a few months ago.
BeyondTheStory sees itself as an actuator of content - as Jen Porter told me in February on a visit back to New Zealand, publishers shouldn't be the business of publishing books, they should be in the business of publishing authors, and the new digital space that devices like iPads has so much more to offer both informationally and recreationally.
Kirk Bowe, BeyondTheStory's chief technologist, says "I want to give new storytellers the tools to tell stories drawing multiple creative dimensions together, and not just words or film or music or paint.
"Sure it's hard if you come at it retrospectively, as the imagination-free publisher, trying to shoehorn some interactive gimmicks around an existing story conceived as a 'word story' only. But Beyond the Story wants to empower the next wave of storytellers to embrace new structuring and delivery mechanisms from conception to publication."
It's a space fraught with preconceptions. Much as many of us still love the printed page, yet despite ourselves more and more of us find ourselves spending serious reading time on iPads, other tablets and Kindles.
Kirk is philosophical about this: "There is an old point around resistance through the preconception that augmenting the words destroys the reader's room to apply imagination. That's a widely held attitude. To this day there are many people who resist illustrations in books for the same reason. But it's mixing up a rose-tinted view of pages of words with the fact that some publishers have never delivered anything else anyway because they have - rather, had - a nice little earner thank you very much. We are a part of the evolution of long form storytelling which gives great storytellers the chance to tell their stories in more than just words. It's about extending their craft, their options. About meeting new 'readers' on the digital battleground."
Books are waning, I'm afraid. Forests might appreciate the scaling down of paper production that will result, but it's not exactly an ecological plus - I shudder to think of the landfill that the first and second generations of tablets will generate, and what that will mean to the environment, and that will be starting soon. But tablets that we can download content to have a huge future.
Kirk says "I want to temper what I say with 'there will always be the words-only novel', to make myself sound reasonable to publishers, but to be honest I'm not sure it holds true anymore. Even in leisure time we're seeing consumers actively mining their way through media, evaluating and coordinating information from diverse sources. It strikes me that reading a novel alone could become a symbol: of an active stance of resistance to change, or a signifier of how far you are from the digital poverty border. Technology is changing how we engage with media, and this has to include storytelling in all its forms."
Expect a lot more from this intrepid team on the cutting edge of a new informational revolution. After Earth: Kitai's Journal is available now.
After Earth is distributed by Columbia Pictures and launches in the United States on 31 May.
There's more about After Earth and the app here.
The app gives moviegoers the chance to deeply explore the story in a way not possible until now. Characters, creatures and landscapes in the After Earth universe come alive in the app, which will show lovers of sci-fi new possibilities with more forthcoming and, indeed, past cinematic endeavours crying out for this type of treatment.
A video of the app is available online.
The app is for iPad 2 or above and is available at Apple's App store for NZ$4.99.
I'm looking forward to similar ventures for films as good as Blade Runner, The Fifth Element and Brazil, not to mention sci-fi crowd pleasers like The Star Trek franchise and even (shudder) Star Wars and Avatar. I'm sure you can imagine other blockbuster films that would get new leases of life from rich and detailed interactive apps - in any genre.
Perhaps more importantly, imagine the educative uses for apps that truly engage the learning of those who we seek to instruct.