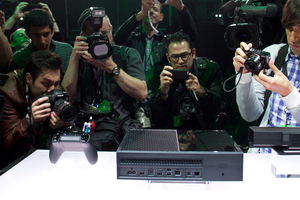 The new Xbox has been unveiled, and with today's announcement comes questions for Kiwi gamers.
Will the Xbox One be on sale before the end of the year? Yes.
How much will it cost? Right now, that answer is unclear.
Can you play your Xbox 360 games on it? Absolutely not.
Xbox Live General Manager Marc Whitten said the Xbox 360 and its vast library of hard-copy and digital games would live on even as the Xbox One era begins, effectively fulfilling past predictions that the current-generation console would be part of Microsoft's plans for some time yet.
But the times, and the technology, are a-changing, and the old games are the quadrilaterals in this particular square peg, round hole scenario.
The differences in system architecture were too strong to justify full backwards compatibility, Whitten told the Herald in an office located at Microsoft's sprawling Xbox campus in Redmond, Washington, shortly after the new console's global unveiling.
"The fact is, we're focused on the Xbox 360 ecosystem continuing and being really vibrant.
"I think people will continue to buy games for the 360 but at the same time, we wanted to build the platform for the future."
The approach creates an interesting scenario. The Xbox One is the device that will do everything. Everything, that is, except play the current crop of games.
The news did not go down well with Kiwi gamers following the announcement online.
"You just lost my money," wrote Tom Isaacson via his @Parsley72 account on Twitter.
"Backwards compatibility is not a technical issue, it's a political one."
Whitten stressed that Xbox was not following the formula of old, where a console was abandoned when the updated version came to market. More about the Xbox 360's future is expected to be revealed at E3 this June.
A select range of titles for the new console were revealed yesterday, including four games from EA Sports' Ignite initiative. Attendees also witnessed the global premiere of the new Call of Duty franchise, Ghosts, and learned of a new live-action television series based on the blockbuster Halo series, backed by film icon Steven Spielberg.
It is expected that full pricing details and a possible release date will be revealed at E3 in Los Angeles next month.
* Troy Rawhiti-Forbes travelled to Redmond, Washington, courtesy of Xbox.