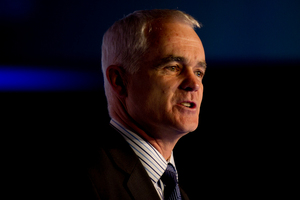 Telecom is keeping its powder dry on its plans for internet television and revealed little about what entertainment services could be in the pipeline during its strategy update to investors.
New Zealand's largest internet provider held a briefing on Thursday to outline how it would move from a "traditional fixed and mobile infrastructure company" to a "future-orientated, competitive provider".
Reporters were not permitted to attend the event but could view slides of presentations given by Telecom executives that were released to the market.
One presentation was given by Rod Snodgrass, who is heading the newly formed Digital Ventures team at Telecom. This unit is charged with developing new services and revenue streams for the company.
The slides from Snodgrass' presentation detailed a number of new services Telecom is exploring, such as a mobile wallet system that allows users to pay at the counter using their phone.
While video and media services were mentioned during this presentation, Telecom chief executive Simon Moutter told the Herald on Thursday evening that not much detail was given about them.
Although Moutter said Telecom had indicated these types of media services were something it would have a good look at, he did not imagine the company would emerge as a competitor with the big "TV players in New Zealand".
Video and internet television are seen by the Commerce Commission and Government as being a key driver of uptake of ultra-fast broadband, which Telecom began selling at the end of March.