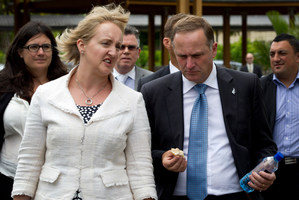 A bill giving the GCSB spy agency and the Prime Minister sweeping powers over telecommunications providers has been introduced in Parliament to an outcry from Opposition parties who say there has been little explanation as to why it is needed.
The bill allows for the Minister of the Government Communications Security Bureau - a position traditionally held by the Prime Minister - to order a network operator to cease a particular activity and to order them not to remove or not to use "any particular system, equipment, service, component, or operation on or related to the network".
The bill makes it clear that telcos operating in New Zealand would be required to co-operate with the GCSB whether or not the company is based in New Zealand.
The bill allows for a new ministerial power to direct that an offshore telecommunications service cannot be resold in New Zealand if there is insufficient interception capability on that service and if there is a significant risk to national security or law enforcement.
The Telecommunications (Interception Capability and Security) Bill was introduced last night by Communications and Information Technology Minister Amy Adams.
It repeals and replaces the Telecommunications (Interception Capability) Act 2004.
Ms Adams said the security of the telecommunications network was critical "if we are to prevent the unauthorised ability to access, copy or divert data, and prevent espionage or the disruption of critical services we all take for granted, for example in our banking and energy services".
The bill would require network operators "to engage with the Government through the GCSB on network security, where it might affect New Zealand's national security or economic wellbeing".
She said ministerial direction would be used only in rare circumstances, after taking into account submissions by both the GCSB and the network operator and only where a significant national security risk was evident.
Labour telecommunications spokeswoman Clare Curran says it provided an extraordinary level of potential interference in commercial operations in the name of national security and yet national security was not defined in the bill.
She said Labour supported the modernisation of legislation and the need to ensure that New Zealand businesses were protected from cyber threats. But it had concerns about the sweeping powers given to the GCSB and to ministers and she wanted to see evidence that would demonstrate the need for such sweeping powers.
"This is about our national security, about our human rights, and about Kiwis' confidence in their security agencies and in their telecommunications agencies."
The bill is separate to the Government Communications Security Bureau and Related Legislation Amendment Bill, which sets out when the agency can spy on New Zealanders, and has been sent to the Intelligence and Security Committee, chaired by the Prime Minister. Some of its hearings will be in public.
The telecommunications bill has been sent to the law and order select committee.