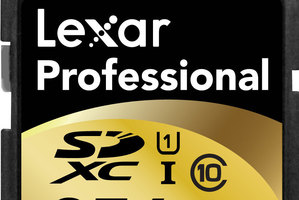 About 10 years ago I was with a group of journalists who were invited to see Sony's 1GB memory stick. As we all loitered around its glass display case many an ooer and ahh was heard as journalists whispered in hushed reverential tones about how amazing it was that such a whopping amount of memory could be squeezed into something so petite.
What a long time a decade is. This was really bought home the other day when I received a review sample of Lexar's latest, a 256GB SD memory card. Essentially an ordinary looking SD card, Lexar have achieved the tardis-like feat of cramming a quarter of a terabyte into its minuscule SD card shaped innards.
You may ask yourself what could one possibly need all that storage for, but as a growing range of 20 Megapixel digital cameras hit the market with the ability to capture massive photos and shoot 1080p HD video, roomy SD cards become a must-have item.
On the front of the SD card 600x is prominent. This translates into the card (and some cameras) being able to zap photos into the SD cards memory at a pretty rapid 90MB per second.
Back in the real world, this equates your camera spending less time unable to shoot more photos while transferring images across to the SD card, freeing up more shooting time.
Putting the 256GB SD memory card into my camera (a pretty basic Sony WX100 compact point and shoot), revealed I had enough storage to shoot a staggering 39,051 photos (with all photo settings cranked up to maximum). I also found that the battery died before I got anywhere near putting a dent in the cards storage, even when filming 1080p video.
Pairing the card with the bundled Lexar USB 3.0 Dual-Slot Reader, I was also able to transfer photos and edit up large video clips at what can only be described as a blisteringly fast pace. For a professional photographer, the extra capacity and sheer speed is likely to be nothing short of a god-send, literally shaving time off a working day.
Living on the bleeding edge of digital storage costs, and the Lexar 256GB SD is no exception at $1,100. This said, you do get a serious amount of digital photo storage real estate, and a sustained 90Mbs transfer rate is definitely nothing to sneeze at.