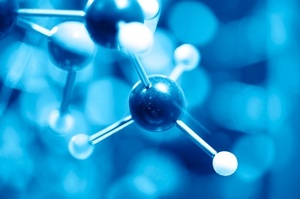 MICROSCOPIC MOVES: People have made movies before by animating small toy figures, but the world record for small now goes to IBM with their animated atoms. Researchers used their scanning tunneling microscope to make a stop-motion film where the characters and action are formed by positioning individual carbon monoxide molecules and their component carbon and oxygen atoms, and using copper 111 as the surface of the animation. But are the characters well rounded?
CRANKING: It's only a concept at the moment but the 4StrikeBike wants us to pedal with our hands as well as our feet. To that end it adds pedals to the handlebars. The crankshaft has a special freewheel system that allows the bike to be cycled with both arms and legs or with the legs alone, or the hand pedals can each be fixed in place in their highest position and allow the handlebar to be like that on a normal bike.
There could be a lot of power in that bike.
PRINT SHOOT: There are plenty of problems around guns, but one is that if the wrong person gets hold of a gun people can be killed. Safe Gun Technology is creating a fingerprint reader to effectively lock a gun unless an authorised user is holding it. The fingerprint reader can be set to allow multiple users. The company has created a prototype of a Remington 870 pump shotgun often used by US law enforcement and is now working on adding its system to handguns. While those intent on crime can probably disable this kind of thing easily enough it may at least stop some kids from shooting one another.
TWO IN THE SUN: The Sunseeker Duo will be not only the fastest solar-powered plane ever built but it will also be the first to carry a passenger. The solar cells have an efficiency of almost 23% so the Duo will have enough power to maintain a steady climb on direct solar power. Meanwhile folding wings mean it can fit into a regular hangar in spite of its 22 metre wingspan, or it can quickly be taken apart and transported in a special trailer. No tow plane required.
STEP CHANGE: Wheelchair users aren't specially thrilled by steps. But if they use the Japanese Unimo electric chair perhaps they'll change their minds. The wheelchair looks more like an armchair and is designed for rest homes and hospitals. Instead of wheels it uses rubber crawler tracks and can do a 360 degree turn in a confined space such as a lift. It can also climb over a step that's 15 cm high. That means it can move on rutted roads, gravel roads in parks and in sand on beaches and other places where conventional electric wheelchairs and mobility scooters cannot travel smoothly. The user controls the chair with a joystick. So how many hospitals have rutted roads and sandy beaches?
Miraz Jordan, knowit.co.nz