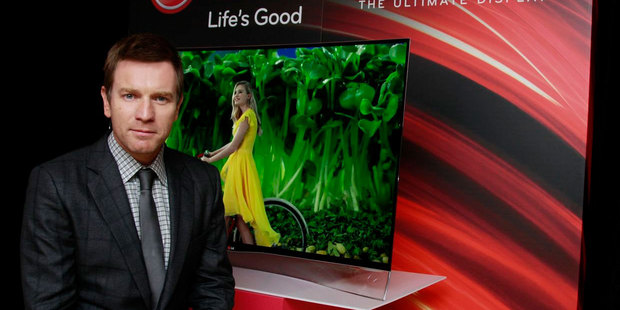 Electronics giant LG unveiled some of its new home entertainment devices in Sydney this week which includes the curved flat screen set, the 55-inch EA9800 high definition TV that popped up elsewhere around the world last month.
The EA9800 is a very thin, 4.3 mm screen that's bent inwards at a 15 degree angle. The Organic Light Emitting Diode or OLED screen with white subpixels along with the usual green, red and blue ones promises faithful colour reproduction and high contrast levels.
Even in the less than ideal environment at the launch venue, with photographic lamps glaring, the EA9800 stood out and received the most attention thanks to the screen image quality.
New Zealand availability and pricing for the EA9800 is yet to be decided by LG, but in Korea the curvy screen goes for roughly $15,850.
LG has also signed up Hollywood mega star Ewan McGregor to promote its products and the Korean company will be relieved to know that was suitably impressed by the curved OLED set, which he hadn't seen until the day.
McGregor will feature in LG's advertising campaigns for the Australian and New Zealand markets. His to the point strapline for the advertisements, "LG is f***ing great, all the others are crap" drew howls of laughter from the assembled media, but is unlikely to form part of the marketing campaign.
Also coming up from LG are smaller and lower priced 55 and 65 inch versions of its Ultra High Definition TV, which has four times the resolution of standard HDTVs. Last year, LG was first to market with an UHDTV, but at 84 inches in size, the screen is just too big for most households.
LG is also betting that people will start to appreciate Smart or internet connected TVs more, despite a survey the company had commissioned which showed that many customers didn't even know their sets had that particular feature.
As part of the Smart TV move, LG launched a new Magic Remote with gesture controls for pointing, drawing and scrolling, which are easier to use than traditional button remotes for things like moving around on web pages.
Cloud storage is also available for LG's Smart TVs, with 5GB of space on which to keep streaming content, and the Time Machine II programme recording feature for the built in Freeview tuners, that lets you hook up external USB drives to the sets.
Juha Saarinen travelled to Sydney as a guest of LG.