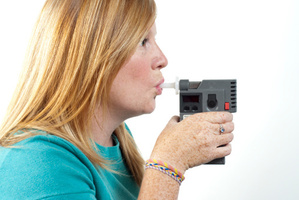 TELL-TALE BREATH: Swedish researchers using a simple, commercially available breath sampler found they were able to detect up to a dozen different drugs, including methadone, amphetamine, methamphetamine and cocaine in the breath of testers. The analyser collects micro-particles from breath on a filter which is sealed and stored for later analysis. Later analysis using liquid chromatography and mass spectrometry reveals the trace of drug use on the breath. It stands to reason that our breath can reveal what's gone into our bodies.
SWIM TIMER: Serious sportspeople may aim to keep their hearts beating within a specific rhythm range while training. For those on dry land there are various gadgets available, but for swimmers it's another matter. It's not only waterproofing that's the problem, but that most devices may interfere with swimming. A Lebanese device clips to the forehead, just below swimming goggles to measure heart rate and keep track of laps and turns.
The Instabeat device reads the temporal artery and displays a readout in the goggles. It weighs 30 grams and the rechargeable lithium-ion battery lasts for 8 hours. And conversely, this one may help the land-based athletes too.
THIRD ARM: Imagine you're an engineer out in the field working on unfamiliar equipment in an unfamiliar environment. There's a lot of potential for messing up. A robot arm could help, by relaying video back to base or from base back to you, by pointing out which parts to use, where to start or where items belong. The Mobile Repair and Operations prototype pairs with a smartphone and can overlay on the phone's screen guides such as arrows or signs. At the worksite a microphone, video and projector on the robot arm can be used to help the engineer with the job, or potentially guide them to safety in an accident. If the robot could also offer a hand that would be even more useful.
WAVING WALLS: Rather than just sticking solar panels on the roof of a house one architect believes they could instead be incorporated in the walls in the form of fabric strips. At least one house in Germany has used this idea. The Soft House features a network of textile strips on the facade with integrated photovoltaic cells, generating up to 16,000 watt-hours of electricity. The strips can move with the sun and be angled to maximise shade in summer or light in winter. Fabric strips wouldn't immediately spring to mind as being able to withstand years of weather.
BETTER BATTERIES: Australian researchers have found a way for electric vehicles to travel further on a charge. A material based on Germanium stores 5 times more energy and can carry a car twice as far on one charge as the batteries currently in electric vehicles. What's more the material is cost-effective, easy to synthesise and allows a battery to charge more quickly. What's not to like?
Miraz Jordan, knowit.co.nz