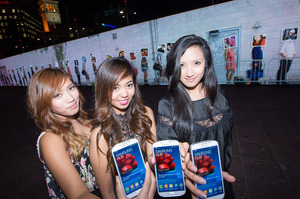 Forget Apple mania, Samsung has managed to create a stir before today's launch of its Galaxy S4 worthy of the best Steve Jobs campaigns.
Samsung created an online competition that harnessed customers to create a social media buzz for the launch.
New Zealanders could queue online - rather than having to sit outside a shop for hours - and win a free phone. Those wanting to get in line to be the first in New Zealand to get the new phone had to share information about it on their social networking sites, Facebook and Twitter.
The more people who commented, re-tweeted and shared your post, the higher you climbed online towards a free phone.
The top three people in line, announced in Auckland last night, were Aucklanders Krisha Santos, Darmain Cruz and Jeca Golbin.
Miss Cruz, 21, said she was thrilled to get a new phone, particularly as she had lost sleep over it.
"I stayed up until 4 o'clock on the last two days of the competition because it just got so intense. I can't believe I lost sleep over it, but it was all worth it."
A spokesman for Samsung said the online competition was a different but clever new approach.
"It's both a practical and creative way for the global technology brand to use technology itself to launch its latest piece of technology."
Another student, 21-year-old Daphne Westerlund, finished in sixth place and had spent the past four days in a daze.
"I've just been sharing everything on my Facebook and on Twitter.
"I had work the other day so my boyfriend was monitoring my Facebook the whole day, putting things up and getting people on board. It's been crazy."
The new Samsung Galaxy was officially launched in New York last month. It goes on sale in New Zealand today at 9am. The release comes as Samsung announces record first-quarter profits driven by surging sales in its mobile division.
The Galaxy S4, armed with eye motion control technology that pauses a video when the user looks away, is faster, thinner and lighter than the previous S3 model.
After years of following and refining the iPhone's pioneering innovations - a strategy that resulted in bitter patent battles - Samsung has dethroned arch-rival Apple as the world's top smartphone maker.