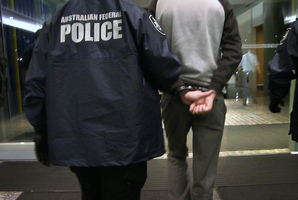 A self-proclaimed leader of the international hacking group LulzSec - known for cyber-attacks on the CIA and Britain's National Health Service - has been arrested in Australia.
The 24-year-old IT worker was arrested in Sydney after he was linked to a recent cyber-attack against an Australian government agency.
The Australian Federal Police said the man was described as a leader on LulzSec chat sites and made no attempt to deny it. His online name was "OzShock".
The hacking group - whose name derives from the term "laugh out loud" and "security"- is an offshoot of the well-known hacking group Anonymous and has been tied to attacks on the CIA, Sony Pictures, the Sun newspaper, the NHS and Nintendo. The group has also allegedly broken into Australian Government and university sites.
"This person known by the online identity OzShock had gained unauthorised access and caused data impairment to a government agency this month," said Commander Glen McEwan, from the AFP.
"This man is known to international law enforcement and police will allege he was in a position of trust within the company with access to information from clients including government agencies. This man's skill sets and access to this kind of information presented a considerable risk to Australian society."
The man, from Gosford, north of Sydney, was charged with hacking and data modification offences and faces a maximum of 12 years in jail.
Earlier, hackers backing Syria's regime spooked United States markets temporarily after they broke into the Associated Press's Twitter account and falsely reported that President Barack Obama had been injured after two blasts at the White House.
A brief alert on the news agency's @AP account read: "Breaking: Two explosions in the White House and Barack Obama is injured."
Almost immediately the wire service posted via its corporate communications feed that its @AP Twitter account had been hacked, before promptly suspending the service. The FBI also said it was investigating the incident.
Online activists backing the regime of Syrian President Bashar al-Assad later claimed responsibility for the hack. The group - the so-called Syrian Electronic Army - also successfully hacked the Twitter feeds of AFP and CBS News earlier this year. "Ops! @AP get owned by Syrian Electronic Army! #SEA #Syria #ByeByeObama," the group posted.
- Telegraph Group Ltd, AFP