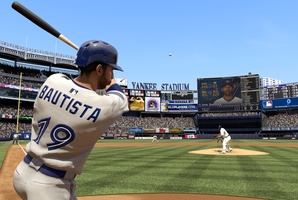 I have never hated and loved as game as much as MLB: The Show. In all the time I owned the 2011 version, I never once won a game. Not once. This game is not for the weak-willed. The player I created was traded over and over; discarded almost weekly by Minor League teams who didn't need a lacklustre first baseman who couldn't hit to save himself.
Fast forward to 2013 and my skill levels have improved and the game has become a lot more forgiving. as such, I win my first game 9-0, playing as the ever-struggling NY Mets. Hmmm, perhaps it's too easy.
The Show is the best sports simulation ever made. Every year the title comes out and adds new features and tweaks that make you think "You have got to be kidding me?!" This means you can spend hours simply creating your character, carefully selecting not only how they look and what they wear but their particular batting stance (choose from over 180 different batting stances!), pitching style (ditto!), even how they react to a strike and what their practice swings look like. Or you can just hit "randomise" and be done with it.
This is all within the feature called Road To The Show. You start as a rookie playing AA ball for one of the farm teams, like the Durham Bulls, or the Albuquerque Isotopes (named after the team in The Simpsons that was going to be moved from Springfield to Albuquerque.) And, just in case you were worried about the realism there, The Show has licenses for all of the affiliated minor league teams too (including a number of actual stadiums.)
This is no Madden, where your rookie gets the starting job ahead of established players with higher skill ratings. In The Show, you have to slog your way to the Majors, completing a set of objectives every month or so. These are split between doing training exercises and performance in games.
When you first start the game in any mode, The Show understands that you may have never played before and offers to set everything to the default of Easy. This is a slight ruse. It has actually defaulted most settings to Expert level. This is because The Show hates you and wants to see you ruined and crying. A bit of quick tweaking though and you're back to Easy.
But not just Easy, you are at "Easy level 1/6". What this means, is that as you progress the game's easy level will get slightly harder and harder. For example: at level 1 easy the pitcher will only throw fastball strikes and you only need to hit a single button for timing, at higher levels the pitcher will start throwing out of the strike zone, then different types of pitches and so on until you reach "Easy level 6/6".
While the easy levels allow you to pitch and hit using simple button tapping for timing and strength, later difficulty levels will require you to bust out the analog sticks to aim and/or swing. Similarly fielding, which at early levels is almost completely automated, gets gradually harder and eventually becomes completely your task.
The increases in level happen while you're playing. So you can start the first inning at 1/6 and finish at 6/6. At the end of the game you can save this progress or if you feel you still need some practise, you can ignore it and start the process again in the next game.
The Show has never been about the quick pay off and this gentle increment of difficulty is a great way to ease into the game without removing the fun bits.
Much like cricket, baseball is a slow-paced game. This is reflected in the gameplay. Each game starts with an incredibly accurate simulation of a TV broadcast. I don't mean a generic shot of the stadium with the commentator's voice over, I mean a fake broadcast so good, if you wandered into the room you might think there was actually baseball on the TV. While you won't need to sit and play through three hours of baseball, not all of the animations are instantly skippable. There is no such thing as a quick game.
The depth of gameplay is amazing. When you play in franchise mode (either for one season or in full mode) you have to manage everything from player scouting player to pitching rotations to a training regime for each individual player. You also have to manage your AA and AAA affiliate Minor League teams. Of course, you can set the computer to manage this stuff too.
In the franchise mode there are built-in team-specific tendencies: certain teams won't trade for players or may dump overpaid veterans and try to "moneyball" their way to a championship. Moreover, your budget is dynamic: underperform in one season and expect to see that bottom line get a lot smaller.
Once you've mastered all of these facets there are two online modes - Diamond Dynasty and Online League - which enable you to, essentially, play fantasy baseball online against other fanatics. Dynasty is based on cards that you collect to get players on your team. You'll need to train them up to get them good enough for real competition, though.
One of the modes that baseball fans will love is the ability to play any match-up from the season with live updated player stats and rosters. So, say you thought that the Yankees really should've beaten the Red Sox on opening day, then you can play that game. The commentary will also change depending on what game it is (ie different parts of the season, where the team was at the time, how the players have been going, even down to "six strikeouts last game" etc).
There's also a Home Run Derby and Post-Season modes. Both seem to be more for quick games rather than the full simulation that you get from the rest of the game.
There are other things to note:
• If you have a microphone, you can record your own chants and jeers for your user created players. Nothing like hearing yourself yell "you suck!" to boost morale.
• If you pause the game you can hear stadium noises like hotdog vendors and location-specific stadium announcements (like the Milwaukee sausage race).
• They made computer simulations of the groundskeepers that come on at the end of the game. I imagine in MLB 14: The Show, the groundskeepers will be player controllable.
Platform: PlayStation 3
Classification: G
Rating: 5/5