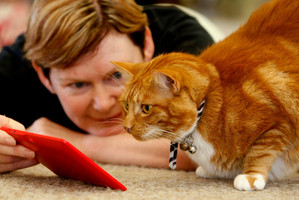 Feline guests at at Northland cattery have a little more than catnip and toy mice to play with - they play with tablets.
Using the touchscreen mobile one-piece computer tablets, they swipe at virtual birds and lasers.
Deloraine Cattery owner Rachael Seymour says she got the idea when cat food brand Friskies advertised its game on television. She logged on to YouTube and found that cats playing with tablets is a popular phenomenon, so a few weeks ago she purchased a few for the cattery guests.
"The Friskies game seems to be the most popular," she said, which involves the cats pawing at flying birds which then explode into a puff of feathers. "Although one of the cats was more interested in actually trying to find the birds around the room," she says.
You can view the videos of the cats playing with the tablets on Deloraine Cattery's Facebook page.
Rachael doesn't just use her tablet for fun and games; she has also used it to take videos showing how to use her pet admin system step-by-step, just in case someone else needs to take over temporarily because she can't be there.
"And from the tablet I can just email it straight to them."
Rachael is not alone in using tablets in business. A recent survey found Northland businesses were the highest users of tablets in New Zealand, with 35 per cent using the technology. The survey involved more than 1000 Kiwi businesses, and was commissioned by The Warehouse and Warehouse Stationery as part of their Biz Rewards programme. Another local business who uses tablets in their business is the AE Fun Park in Maungakaramea.
Owner Chris Angus says AE has six tablets which they use to collect customer data and for waiver-signing. "When the customer gets here they sign in or up using the tablets as a kiosk ... replacing the old paper system and gives options to receive marketing updates."
But as is the case for Deloraine, the tablets are multi-functional.
"The tablets are also used as access cameras in the park to keep a eye on things away from the office, cars coming and going, the amount of people and what they are doing on activities that are out of the office's view."
For more articles from this region, go to Northern Advocate