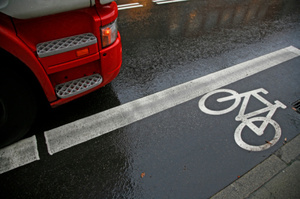 SEEN FROM ON HIGH: Trucks and bikes aren't a very good combination. The truck driver high up in their cab may not even see the lowly cyclist. In London construction trucks have been disproportionately involved in cyclist accidents. That led the London Cycling Campaign to suggest a redesign of the standard truck, or at least the sides of the front of trucks. Their suggestions include reducing the overall height of the truck, the height of the driver's seat, and adding side windows that would allow the driver to see a cyclist or pedestrian alongside.
Those side windows could make a huge difference.
EAR WORKS: We all know the problem of ill-fitting earbuds, so how do people get hearing aids or in-ear monitors that fit perfectly? Well, it would be handy to have an accurate model of the ear canal. In the past the ear was filled with resin that hardens over 15 minutes or so. The Lantos ear-scanner does things differently.
A 3D scanner with an optical tip is inserted deep into the ear canal where a membrane fills with dyed water. The scanner then captures hundreds of images of the inside of the membrane as it conforms to the shape of the ear canal.
Sophisticated software creates a 3D model of the ear canal, ready for an accurately personalised device to be manufactured. Though they probably don't used 3D printing for that.
CONCRETE USE FOR WASTE: Concrete is a notorious source of CO2 because we use so much of it. Engineers from Kansas State University have developed a concrete made from biofuel byproducts such as corn stover, wheat straw and rice straw that doesn't create quite so much CO2. The high-lignin ash byproducts also react chemically with the cement to make it considerably stronger. This means crops can be harvested for food, while leftover material can be used in biofuels and the wast products from that process can be used in concrete. Very efficient.
A TITAN OF POWER: Multi-use Titanium Dioxide from Nanyang Technological University in Singapore can produce energy, generate hydrogen, and desalinate water. It can also be formed into flexible solar cells and can double the lifespan of lithium-ion batteries. It can even be used in new antibacterial bandages. The low-cost nanomaterial is formed by turning cheap and abundant titanium dioxide crystals into nanofibres that can then be fabricated into filter membranes. Surely it can be paired up with the wonder material graphene to achieve world peace and prosperity?
WHAT'S OLD IS NEW: Invicta Plastics in the UK has created the world's first rigid, food-safe products from 100% recycled plastic bottles, lids and milk cartons. Their new processes called rPETable and rNEWable use high quality recycled plastics rather than virgin polymers. That should dramatically reduce plastic waste.
Miraz Jordan, knowit.co.nz