Bluetooth pioneer gets smart with in-car infotainment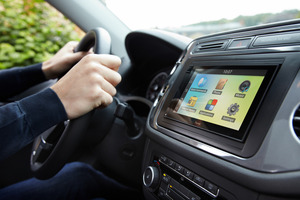 That little green robot has had more of an impact than many of us realise.
Google's mobile operating system that at one point looked like nothing more significant than another quirky project for the search giant's engineers in their designated 'faff around with stuff and make things' time.
Smartphones, internet-enabled glasses, smart TVs - developers have turned their hand to fine-tuning open source Android to fit a huge number of devices.
This time, rather than clever Bluetooth hook-ups and fancy colour displays, it's pushed the boat out a bit, with a range of car head units running Android.
That means Spotify straight to your car; internet connectivity; 4G data if you're brave enough; and web-enabled navigation and the hands-free calling and voice control.
The range is called Asteroid, starting off with a $549 basic 'Mini' model that gives barebones functions that you'd expect in high-specced new cars; a five-inch touch screen 'Tablet' model ($749) which adds apps like Spotify; a useful dual mode that allows two smartphone libraries to be connected at the same time; and plays nice with Wi-Fi networks as well as 3G and 4G and all smartphone operating systems.
Clever stuff, but the $1299 flagship 'Smart' has a few extras - like four onboard USB plugs; the ability to plug in a reversing camera; or to output video to external headrest screens (Barney in the back through headphones to shoosh kids while listening to less offensive material in the front); double-din sized to fit into the dash, the 6.2-inch multi touchscreen isn't a bad look either.
The car audio industry's future has dulled in recent years, as the idea of upgrading highly-integrated audio systems seems a bit too much like hard work. But for the owner of a car that takes the industry-standard double-DIN unit and doesn't want to compromise on connectivity in their car, Asteroid is a pretty solid option. And in beloved older cars that just don't have the tech tricks, it adds convenience. At the time of writing there were apps on the Asteroid Market for weather, mapping, road trips, web radio. With Android being the ever-evolving OS animal that it is, with legions of developers cranking out software, there's a lot more on the way.
Stars: 4/5