Surveillance system can monitor thousands of faces in a grandstand and match against troublemakers' file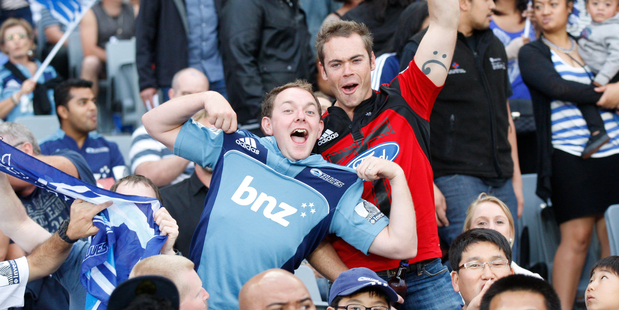 Too aggressive in your abuse of a referee's decision at last night's rugby? Chances are your face was picked out of the crowd by state-of-the-art surveillance technology.
New technology used for the first time at Eden Park enabled a single camera to record an entire grandstand - and monitor its thousands of faces.
The next generation surveillance system acts as a kind of fourth-referee for the crowd, and effectively does away with the need for multiple CCTV cameras.
Signs of trouble can be picked out and individual spectators zeroed in on, gathering detailed and full resolution video footage for evidence.
Last night's game between the Blues and the Crusaders was used by the C.R. Kennedy company to show off the technology to interested parties from around New Zealand.
Eden Park spokeswoman Tracy Morgan said the ground was considering the technology to "enhance" current security systems.
"We are simply a review site ... they are using us so that they can show it off to everyone else."
"They are using the park as a trial, it's not necessarily something that we see a need for at the moment."
Eden Park already had 270 CCTV cameras, which provided full coverage of all stands and other areas such as carparks.
C.R. Kennedy New Zealand, the Mt Wellington-based company displaying the new technology, declined to comment last night.
It offers Australasian distribution of the technology with its sister company, C.R. Kennedy & Company Australia.
Earlier yesterday the technology was displayed to about 20 people from event management companies, major retail operators and the gambling industry.
A person at the meeting said it was a "fantastic system for crowd and venue control. The technology was remarkable."
C.R. Kennedy also separately offers facial recognition technology, which can be used in casinos to identify problem gamblers.
The company has completed major surveillance installations for Melbourne's Crown Casino, the Bank of Queensland, and Brisbane Airport, according to its website.
A recent project at Sands Casino in Macau utilised 1,300 video channels streaming broadcast quality video.
Recent advances in CCTV technology have brought warnings from overseas privacy advocates.
In the United Kingdom, new 16-megapixel HD cameras can pick out a face more than 800m away, and match it against wanted people.
Such technology scans faces and "maps" their points out into a series of algorithms. Comparisons can then be made using facial recognition software to verify people's identity.
The UK's first surveillance commissioner, Andrew Rennison, last October warned such technology risked turning Britain into a "Big Brother" society.

How it works
• The Panomera camera, made by German manufacturer Dallmeier, captures and records the whole crowd constantly in up to 51 megapixels.
• Even when the operator zooms in on a trouble spot, the wider picture can be viewed and permanently recorded simultaneously.
• Vehicle number plates can be recorded and made out from 200m away.
• The technology picked out a fan lighting a flare in a German stadium.