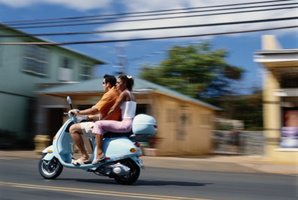 UNFOLDING DRAMA: Pull the 25 Kg Hungarian Moveo electric scooter from the back seat of your car, spend a few minutes unfolding it and slotting in the seat, then you can zoom off round town at up to 45 Kph. A full charge takes an hour and will carry you for around 35 Km. At your destination fold the scooter in two and wheel it along behind you like a suitcase. The carbon-composite body is designed to protect you from all the parts that might make you grubby. It's an interesting idea, but the initial unfolding seems a bit fiddly.
THE FINE PRINT: There's plenty of talk about 3D printing for large objects such as fish tags or airplane parts, but Nanoscribe GmbH have created a speedy 3D printer for objects smaller than the diameter of a human hair. The laser lithography printer uses ultra-short laser pulses to polymerise and dissolve photosensitive materials leaving the desired structure.
Then tiny areas of a structure can be stitched together to create a larger object. The technique is a hundred times faster than older methods. That's precision printing.
OLD NEWS: First there were storytellers, then newspapers, radio, TV, blogs, Twitter, rubbish bins... In London the Renew newspaper recycling bin doubles as an open-air information screen. The fibreglass bins have screens at each end that display news and information such as where nearby hire bikes are. The news is drawn from journalists or feeds from magazines. The screens can also be used for emergency messages. No news is good news.
KILLER PACKAGE: An ongoing problem with cancer treatment is to kill just the cancer cells and not the healthy tissue around them. A capsule developed at UCLA wraps a protein that destroys cancer cells in a nanoscale shell that degrades harmlessly in non-cancerous cells. Tests on lab mice showed significant reduction in tumour growth. Using a protein avoids the risk of genetic mutation posed by gene therapies and the risk to healthy cells from chemotherapy. That's a helpful targeting system.
DROP SHIPPING: The DropTag combines a battery, a low-energy Bluetooth transmitter, an accelerometer and a memory chip. Attach it to a parcel before shipping and it logs any g-forces above a set risky shock level while in transit. The parcel's recipient can then use a smartphone app to scan the tag and see if the parcel was mishandled during shipping, even without opening it. And if the tag says transit was smooth but the parcel's contents are still broken, what claim do you have then?
Miraz Jordan, knowit.co.nz