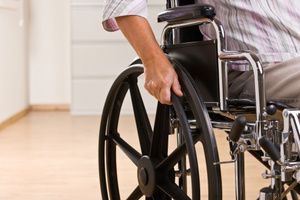 AS THE WHEEL FOLDS: Even though wheelchairs may fold up for easy transport in a car or plane, their wheels don't get smaller. That's where the Morph Folding Wheelchair Wheel comes in. The wheel itself collapses from a circle to an elongated oval shape that can more easily fit into spaces designed for luggage. The wheel uses a solid tire and includes a hand rim that also collapses. In case you're wondering, the design of the wheel makes it impossible for it to collapse as long as the quick release axle is inserted through the hub. I wonder if the tire deteriorates quickly along the fold points?
DRINK THE FLOOD: Flooding brings many problems, including how to find clean drinking water. Thailand's mobile SOS, or Solar Operating System, unit purifies contaminated water after a flood.
Solar cells and batteries drive a nanofiltration system to produce up to 200 litres of drinkable water per hour from flood waters. Silver nanoparticles in a ceramic filter capture and kill bacteria. While larger filtration systems have long existed, this one can be carried onto a small boat by a few people and taken to where it can do the most good. There are probably plenty of communities who could put one of those units to use fulltime, with or without a flood.
SELF-SAVED MAN: People with kidney disease may need an expensive dialysis machine to clean up their blood, and that also generally involves a trip to the hospital. One Chinese man who could no longer afford the hospital visits solved his problem by making his own dialysis machine, and it's worked for him for 13 years now. His home treatments cost only 12% as much as hospital treatments. He made the machine from disused medical equipment and household items. That's
some extreme DIY.
LIGHT WEIGHT: NASA's Sunjammer mission will use a solar sail made of Kapton. That's a polymide film that's only 5 microns thick. The sail is around 1200 square metres, but weighs only a little over 30 Kg.
Sunlight pushing on the sail will allow it to tow a support vehicle to the Earth-Sun Lagrange Point 1. One of the trickiest parts of the mission is successfully unfurling the sail. The Sunjammer should launch in 2014. Even lightweights can go far under gentle pressure.
BRICKS IN THE WALL: Recycling paper is a good thing, of course, but even the mills that process used paper create waste of their own.
Researchers at the Visvesvaraya National Institute of Technology in India, realised they could transform the waste sludge from local mills into much needed bricks for building. The lightweight bricks are made from 90% paper mill waste and 10% cement. With a waterproof coating they're suitable for internal partition walls and temporary buildings.
One person's waste paper is another person's building bricks.
Miraz Jordan, knowit.co.nz