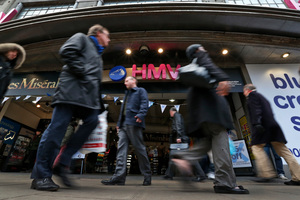 A disgruntled HMV worker hijacked the company's Twitter account and live-tweeted the firing of more than 60 staff.
Using the hash-tag #hmvXFactorFiring, the staff member lashed out at the British music and video retailer during an HR meeting where the staff were told they would be losing their jobs.
"We're tweeting live from HR where we're all being fired! Exciting!!" they wrote on the company's official account, @hmvtweets.
"There are over 60 of us being fired at once! Mass execution, of loyal employees who love the brand.
"Sorry we've been quiet for so long. Under contract, we've been unable to say a word, or -more importantly - tell the truth.
"Just overheard our Marketing Director (he's staying, folks) ask "How do I shut down Twitter?"
"Under usual circumstances, we'd never dare do such a thing as this. However, when the company you dearly love is being ruined ... and those hard working individuals, who wanted to make hmv great again, have mostly been fired, there seemed no other choice.
"Especially since these accounts were set up by an intern (unpaid, technically illegal) two years ago."
The tweets were soon deleted, followed by an explanation on the company's Twitter account.
"Our @hmvtweets picked up a lot of attention today, it's clearly been a tough day for us all at hmv, please stick with us #hmvxfactorfiring.
"There have been job losses today, but not in our stores. We are still open for business, thx for your continued support #savehmv.
"One of our departing colleagues was understandably upset. We're still here thou, thx for supporting hmv thro these challenging times."
The company announced on Thursday that 190 positions at the company would be axed. It comes after the company went into administration last month, putting more than 4,000 jobs and 223 stores across the UK at risk.
Poppy Rose @Poppy_Powers has been credited with writing the tweets. She explained her actions on Twitter.
"I would apologise for the #hmvXFactorFiring tweets but I felt like someone had to speak.
As someone without a family to support/no mortgage, I felt that I was the safest person to do so. Not to mention, I wanted to show the power of Social Media to those who refused to be educated.
"Just to set something straight, I did not 'hijack' the hmv twitter account. I actually assumed sole responsibility of Twitter & Facebook over two years ago, as an intern. When asked (this afternoon), I gladly provided the password to head office. I also set another member of staff up as a manager on Facebook, and removed myself from the admin list. I didn't resist any requests to cooperate."
Rose said she hoped the stunt would show senior staff members the "true power and importance" of social media.
"Now, I should probably go and hide for a while...Thank you so much for your supportive tweets! Much love to the hmv staff & customers."