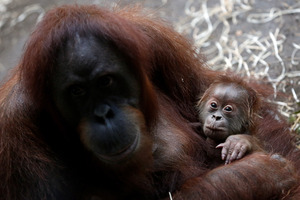 A Washington Zoo is the latest to adopt a programme that sees Orangutans using iPads to interact with their keepers.
Smithsonian's National Zoo in Washington announced the move in a statement today, saying they were following the lead of 12 other zoos around the world in adopting the "Apps for Apes" programme, designed to stimulate the Orangutans and add "variety and enrichment" to their lives.
"With the tap of a finger, keepers are introducing the zoo's six orangutans to iPads, which provide unique stimuli. They found that 36-year-old Bonnie likes to bang on the drums, 16-year-old Kyle prefers the piano and 25-year-old Iris is content to listen to the soothing sounds of the koi pond while watching animated fish splash," the statement said.
The apes spend between five minutes and half an hour playing on the donated iPads, which are held by zookeepers.
Apps for children, including finger-painting and drum apps, are favourites with the apes, as are David Attenborough nature documentaries, Time magazine reported.
Becky Malinsky, great ape keeper at the Smithsonian's National Zoo, said Apps for Apes was a perfect for in a "new era" of zoo keeping.
"It's about changing up the day-to-day lives of our animals. We already vary their food, toys and social interactions every day, but the iPad offers another way to engage their sight, touch and hearing," she said.
Orangutans are well-known for their high levels of intelligence and for being close genetic relatives of humans.
- nzherald.co.nz