Kiwis are seeing smaller branches, fewer old-style tellers and more staff trained to aid complex transactions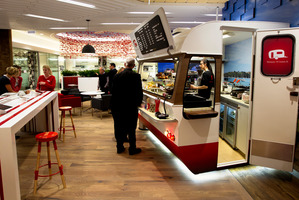 Ten years ago, checking your bank balance via mobile phone or talking to your banker on a tablet computer from the comfort of your couch might have seemed more science fiction than reality.
But with more than 40 per cent of New Zealanders now in possession of an internet-capable smartphone, the banking sector is seeing mobile and digital technology as the way forward.
Ian Park, head of retail banking at ASB, says take-up of mobile-phone banking has been four times faster than for internet banking.
"New Zealand is facing the most exciting period in retail banking in my career with the advent of mobile and digital technology."
Park says it is not just "tech geeks" who are embracing the new ways to do their banking but a large proportion of the population.
"New Zealanders have always been early adopters of technology - they seem to have an insatiable appetite for it."
Mobile phone applications and text message balance updates are offered across the banks, but some have more advanced functions.
Last June ASB gave its mobile-app users the ability to pay their Facebook friends, and in September it introduced the option to talk to a banking specialist face-to-face online.
Rival Westpac has also moved quickly in the technology stakes with a "cash tank" app that produces a graphic of the bank account similar to a fuel tank.
This month it will also begin a trial in conjunction with Auckland Transport, where its customers will be able to pay for travel by credit card through tapping their phone onto a contactless point-of-sale terminal.
Westpac's head of retail banking, Ian Blair, says 90 per cent of its transactions are now done via mobile, internet or ATM.
In response to the change Westpac has opened a new branch in Silverdale, north of Auckland, where its staff will not handle cash.
The branch has ATMs but its staff will be focused on giving mortgage and insurance advice rather than basic banking transactions.
"We are moving where our customers are moving," Blair says.
The branch is a trial version and, if successful, could be rolled out to Westpac's rural network.
It is a trend reflected across New Zealand's banks with smaller branches, fewer old-style tellers and more staff trained to help with complex banking.
ANZ's Kerri Thompson says five years ago its branch staff was made up of 60 per cent tellers and 40 per cent personal bankers - now it's the other way around. She says the number of tellers will continue to come down.
At the same time, ANZ has spent $10 million training its staff in the past year. Despite the drop in transactions coming through the branches, all the banks are adamant the branch is here to stay.
Andy Symons, head of BNZ retail banking, says one reason the branch model still stacks up is that the dollar volume of transactions carried out in-store is high.
He says it has dropped slightly as more transactions can be carried out online, but Kiwis still feel more comfortable coming into a branch to get a mortgage.
"We see stores continuing to play an important role in the community."
Thompson backs that up. She says that while online credit-card applications have grown to about 40 per cent, fewer than 10 per cent of home loans are applied for online.
"People want a lot more advice when it comes to making big financial decisions."
Symons says there is still a place for branches, or stores as he likes to call them.
"Just look at Apple - there you have an organisation which could have been the greatest online-only retailer but chose to open stores."
Symons says some online-only banks in Europe have recently begun opening stores.
The move to digital devices has opened up more channels to do banking but at the same time it has reduced human interaction, making it harder to build rapport and cross-sell products in the traditional way.
Symons says deepening customer relationships remains important and there is now more emphasis on staying relevant and readily accessible.
"The expectation is: you have got to know who I am - don't offer me stuff that isn't relevant," he says.
"Which means banks have to keep asking: how relevant is this to what our customers are telling us?"
Symons says New Zealanders are doing all right in terms of what their banks are offering.
"We are doing some great stuff in New Zealand across all the banks. We are in good shape," he says.
"None of us know what is going to happen in 10 years' time. So in the meanwhile there is a focus on culture and keeping people focused on the needs of the customer.
"It's about customers being in control of their own money and doing what they want, whenever they want to. We are in a period where we need to be good at making that happen."