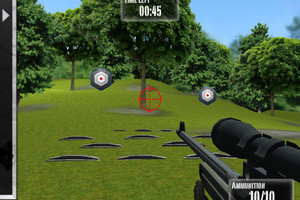 Despite pointing the finger at video games in the wake of the Sandy Hook school massacre, US pro-gun lobbyists the National Rifle Association have released a game of their own.
While some have called the release hypocritical, the game - NRA: Practice Range - claims it "instills safe and responsible ownership through fun challenges and realistic simulations".
The iTunes Store listing for the game describes the app as "the NRA's new mobile nerve centre, delivering one-touch access to the NRA network of news, laws, facts, knowledge, safety tips, educational materials and online resources".
"It strikes the right balance of gaming and safety education, allowing you to enjoy the most authentic experience possible," it says.
The 3D game allows users to test weapons on three realistic shooting ranges and offers gun safety advice while gamers wait for the game to load.
NRA: Practice Range is free to download from iTunes, however users can pay to unlock extra weapons, such as a MK11 sniper rifle.
The game is rated 4+ and was developed by MEDL Mobile.
The app, which can be played on iPhones and iPads, was released on January 13 - one month on from the massacre at a Connecticut elementary school where 20 children and six adults were gunned down.
In the wake of the tragedy, the NRA blamed violent movies and video games for the rise of violence in the United States, a claim rejected by the gaming industry.
The timing of the release - and the apparent hypocrisy given the NRA's position - has been criticised on social media and in online reviews.
"Is now the best time for a National Rifle Association (NRA) 3D shooting game? We'd suggest not," theappside.com wrote in their review of the game.
- nzherald.co.nz