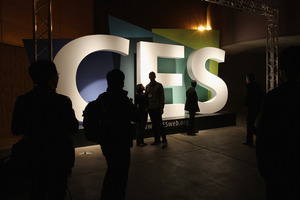 When it comes to tech, The Consumer Electronics show is the big deal. Held annually in Las Vegas, CES is where new gadgets and technologies are shown off to the trade and journalists.
Most importantly CES is also where the die is cast for the shape of the consumer electronics industry over the following year. This year's CES is only weeks away and the industry is already abuzz with speculation about what we're likely to see.
Here's a potted take on what is known so far:
Self Driving Cars
Google has been working on a self-driving car for eons, and the US state of Nevada has even declared them legal for use on its roads, but both Toyota and Audi will signalled that they'll have their own self driving cars showcased at CES. Wonder how long it'll be before we see them in New Zealand? Getting one's license could become a quaintly archaic concept in a few decades.
4K Ultra HD
Seeing Ultra-HD TV for the first time is nothing short of a revelation, and with HDTV prices flat-lining, Samsung, LG and Sony have to go all-out to push their 4K Ultra-HD TV offerings at CES. At approximately 4x the resolution of convention HD, Ultra-HD TVs can display over 4,000 horizontal pixels, which makes watching them a lot like looking out a window. Shame there's no Ultra HD content being broadcast yet.
Smart TVs
Samsung has been letting slip some of the features of its new web-connected TVs over the last few weeks, and its newer models are expected to be at CES showing off a new shiny interface. Here's hoping Samsung have developed a better method for navigation, as using a remote is pretty clunky.
Google TV
Having struggled to gain traction with their Google TV offering, expect plenty of noise from the search engine giant at CES this year. Whilst Google has plenty of hardware partners like Sony, LG, Asus etc. Google TV has sadly failed to take off. Perhaps some global content deals would sweeten the deal somewhat? Next generation set top boxes and TVs with Google TV built in are almost a dead cert at this year's CES.
Intel Powered Smartphones
You'd be forgiven for thinking that CES was dominated by TVs, there's usually also a massive selection of smartphones and other tech on display too. In the phone space, Intel has been feeling the burn as their arch rival, ARM, has been selling boatloads of its processors for tablets and smartphones. Based on this (and previous announcements by Intel at CES) expect them to make a big push for their mobile silicon at this year's CES, Here's hoping they actually convince smartphone makers to adopt Intel chips, as competition in this space would definitely be a good thing.

Size does matter: Bigger screens on smartphones
As phones become smarter, their screens also seem to get bigger. Nowadays 4" just doesn't cut it. Big screen phones, branded phablets seems slightly absurd and more than a little un-pocketable, but they have sold by the truckload throughout 2012. Expect XXL phones from all the usual suspects at CES.
Windows 8 & Tablets
Windows 8's radical departure from long-held windows user interface conventions caused bit of a ruckus amongst the PC community, yet those who'd had the chance to play with a Windows 8 tablet remain largely smitten. Expect Intel and other PC makers as well as Microsoft to showcase a bunch of clever PC designs that convert into touchscreen enabled notebooks or tablets. Here's hoping Microsoft also showcase the Intel powered Surface Pro.
Home Automation
CES simply wouldn't be CES if there wasn't some crazy outfit showing off a way of connecting up all the appliances in your home to the Internet. This typically includes lights, burglar alarms, and home surveillance. Whilst I can see some sense in remote surveillance (and being able to use a browser to turn lights on and off would be kinda cool), going online to access ones refrigerator just strikes me as being a solution looking for a problem to solve. Still, here's hoping...