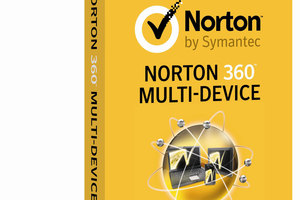 Having recently decided to build a freshly minted Windows 8 PC, I began to cast my eyes around for some security software. Nowadays, leaving ones PC without a firewall, anti-intrusion/anti-virus software is simply asking for trouble.
A few years back a computer industry publication left an unsecured PC connected to the net and timed how long it took for the PC to get infected with cyber-nasties.
Shockingly it took mere minutes before the PC was compromised. In a nutshell, If you're going online or networking your PC to others, installing good internet security software isn't optional.
Searching around there are a bewildering array of excellent internet security options, some cheap, some not so cheap and some were even free.
At $129.99 Norton 360 Multi-Device definitely isn't cheap, but it does have hell of a lot of features baked in and a very nifty trick up the digital equivalent of its sleeve.
So what's this party trick? Cleverly a single Norton 360 Multi-Device license key can be used to monitor and install protection on up to 5 devices spanning Macs, PCs, IOS and Android digital dodads.
PC/Mac Protection
Symantec have also carefully evolved Norton 360, after taking it on the nose after an earlier version with a resource hungry anti-virus and firewall engine impacted PC performance. Worse still was a double whammy in the form of intrusive reporting. This annoying combo saw protests from users become many and vocal.
Thankfully Symantec have taken several boatloads of learnings from this and Norton 360 multi Device is sufficiently lean that it appears to run on the smell of an oily USB plug whilst managing security with minimal user hassles. This was borne out by the fact that Windows 8 was snappy and responsive even though I had a fairly chunky security suite installed.
Like most good PC security packages, Norton 360 Multi Device also has industrial grade spam and phishing protection. Norton 360 Multi-Device uses both social networking smarts along with a bunch of other more traditional methods to detect cyber nasties, making it smart enough to recognise threats as they emerge. In a nutshell, there isn't much that 360 Multi-Device for PCs missed on the security front.
Not only does it block threats, but it'll also keep an eye on incoming email, blocking any dodgy attachments. The two-way firewall protects against in-bound intrusion attempts and other attacks as well as attempts by malware to dial-out and spread infection mayhem.
Add in 25Gb of online backup storage, parental controls, PC clean up capabilities and you're literally cooking with gas. Usefully Norton 360 Multi-Device also has the ability to filter websites, preventing accidental visits to sites hosting malware (which considering my ability to mistype something as simple as a URL is a very useful feature indeed).
Mobile Security
If, like many, you spend a growing amount of time on your smartphone or tablet, good security for the various IOS/Android hardware scattered about your home also makes a whole lot of sense.
The combination of something as small as a smartphone and my ability to be totally absent-minded is a potentially costly combination - I've managed to lose at least two high-end phones whilst travelling. Because of this, I was pleased to see that with Norton 360 Multi-Device I was able to find, lock, and/or wipe a lost smartphone simply by sending a text message.
As would be expected by a mobile security package, Norton 360 Multi-Device also alerted me if I landed on dodgy websites and could also block unwanted calls and texts. Unfortunately I didn't have any IOS devices to hand so was unable to confirm how usable Norton 360 Multi-Device was on an iPhone or iPad.
One concern I did have on the mobile front was the relative ease with which the mobile app could be uninstalled, effectively rendering it useless as an anti-theft tool (I'd however wager that this is probably unlikely to occur to all but the most cyber savvy phone thieves).
Verdict
While there's cheaper and even free security options out there, few manage to cram the sheer functionality of Norton360 Multi-Device. Add to this its ability to manage up to 5 devices including Windows, OS/X, Android and IOS devices remotely via a centralised online console, and there's a whole lot to like with Norton 360 Multi-device.