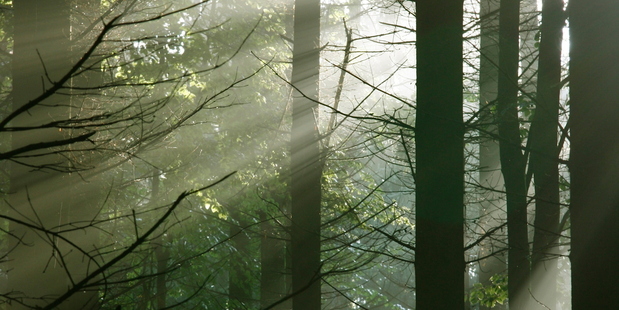 FOREST EGG: A new tree top walk in the Bavarian Forest National Park takes visitors 1.3 Km along a path that gently winds to the top of a wooden tower around three ancient fir trees. The 44 metre tower is shaped like an egg and allows visitors views of the surrounding forest and to closely inspect the firs at the centre. Wooden fences and transparent nets keep visitors safe, while integrated rope bridges and other challenges are available for the more adventurous. You have to wonder what effect reducing overall available light will have on the ancient firs in the middle and what authorities will do if the firs die. Bavarian Forest National Park explains. Video here.
FLIPPING ROBOTS: Do you think of yourself as a speed-reader? You won't be able to match the Japanese BFS-Auto scanning robot though, with its 250 pages per minute. The book sits on a stand while an automated flipping machine turns the pages. Meanwhile high-speed sensors determine when the pages are least deformed so that high-definition cameras can capture images at 400 pixels per inch.
Finally, software matches the page image with the data from the sensors about the page's deformation and corrects the image. Now, that's the way to scan books. Ishikawa Oku Laboratory details. Video here.
TVS TO TRANSPORT: Cathode ray TVs contain leaded glass, which is a problem when it comes to recycling. The UK firm Sweeep Kuusakoski is able to reclaim about 1 Kg of lead from each set though, after a British inventor came up with a furnace to do the job. The furnace heats the glass to over 1,000C. The lead falls to the bottom at that heat, and the glass continues through a process that turns it into roading aggregate. Much of the recycled lead is used for car batteries. Who'd have thought TVs could go from transporting us figuratively to literally? BBC finds.
MOTORCAR BUILT FOR TWO: Honda's new Micro Commuter vehicle is almost ready for production. It weighs less than 400 Kg, is around 125 cm wide and 2.5 metres long. Meant as a short-distance electric commuter vehicle, it's designed to carry a driver and one other adult or two children up to 100 Km. The battery recharges in less than 3 hours. Real-world testing begins next year. The crucial question though: is there room for the dogs? Gizmag elaborates.
PHONE ON THE RUN: It's an emergency but your cellphone has run out of juice. Now what? Don't throw the phone away in disgust. Researchers at Virginia Tech are working on a piezoelectric charger for just that scenario. They found that zinc oxide might do the job: shake the phone for a few minutes to create enough charge for an emergency call. Just drop the phone in your pocket while you run from the scary monsters. Gizmodo has further info.
Miraz Jordan, knowit.co.nz