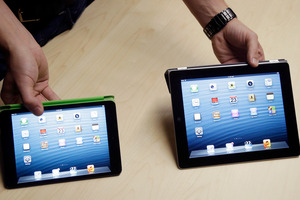 New Zealand hands will be some of the first in the world to clutch the new iPad Mini tomorrow morning as the new Apple device goes on sale.
Excited Apple fans are expected to camp on the public footpath outside Yoobee's Newmarket store overnight where hype is building about the new tablet.
Long queues of excited and exhausted fanatics have become a sight synonymous with new Apple releases - most recently when the iPhone 5 went on sale last month.
But when the doors of New Zealand retailers open tomorrow morning there is an extra element of excitement for those who line up.
The iPad mini launches in all major countries on the same day and, thanks to our proximity to the International Date Line, New Zealand is the first major place where it will go on sale.
"It's going to be a very busy morning,'' Yoobee general manager of retail Steve McLean said.
"It's a pretty special event for New Zealand. One of our customers may just be the first in the world to own the iPad mini.''
In typical Apple style, the new, trimmed-down version of the trailblazing tablet arrived in the country earlier this week - but there is not much you're allowed to know about their distribution.
Mr McLean said he wasn't allowed to talk about how many had arrived, when they had arrived or where they were being kept.
"You just never know [if they're going to sell out tomorrow],'' Mr McLean said.
"I think there's going to be a lot of demand for the mini. It's been hotly anticipated, it really has.''
Yoobee opens its doors at 8am and the iPad mini goes on sale from $329 for the most basic model.
For those considering camping, a mild night is forecast for Auckland with minimum temperature expected to drop to about 13C.
- APNZ