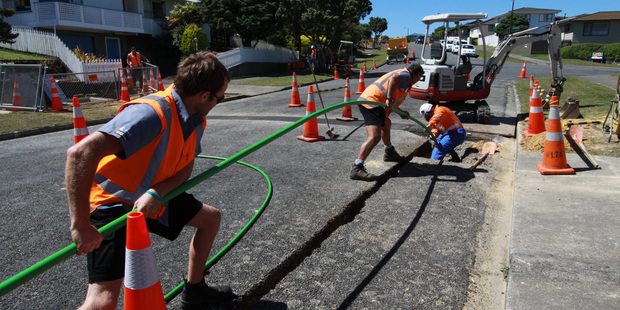 Shares in Chorus rallied sharply after the telecommunications network company reported its first result as a separately listed entity.
By 11.10 am shares in Chorus were trading at $3.45, up 29c or 9.2 per cent, while the broader market was flat. They have since dipped slightly to $3.42.
The company's net profit for the period was $102m, which was in line with market expectations.
Chorus announced earnings before interest, tax, depreciation and amortisation of $399m for its first seven months to June 30.
See a results presentation here.
The company, which was once part of Telecom, became a standalone entity on December 1, 2011.
Chorus said its fixed line connections remained largely static at 1.77m while broadband connections grew steadily to total of 1.0m.
The Chorus board approved a final dividend of 14.6c a share.
The board anticipates that Chorus will pay a fully imputed full year dividend of 25.5 cents per share for 2012-13, subject to there being no material or adverse changes.
Chief executive Mark Ratcliffe said the result reflected a pleasing start to Chorus' first seven months of operations as a publicly listed company.
"Our rollout of the ultra-fast broadband network is also gaining momentum with about 57,000 end users already within reach and we're working closely with our customers to facilitate the transition to fibre as this network continues to grow," he said.
- APNZ