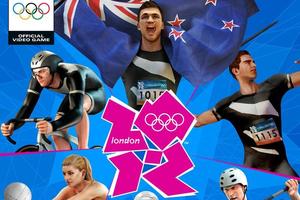 Track and field games, and particularly those dumped on the market every four years in honour of the Olympics, have never been particularly good at either simulating real sporting events or being a fun gaming experience.
With London 2012, you won't get a complete simulation, but you'd have to be particularly stony-hearted not to have any fun.
The button-mashing is still there in events like the 100m sprint, but with the help of a stamina gauge, players are made to pace their controller abuse.
Simply wearing the button out with repeated blows will cause your competitor to burn out, so you have to introduce some rhythm in order to keep yourself in the race.
That mechanic applies to plenty of sports in the game, from hurdles to javelin, which is far more fun than it sounds. The tap-tap-tapping is there, but there's skill in getting the run-up down pat before quickly pulling the thumbstick at just the right time to produce an optimal throwing angle.
And if you nail a personal best, you really do feel accomplished. The enthusiastic commentary and - if you're good enough - medal ceremony national anthems are the icing on the cake.
For every hit though, there's a miss. The triple jump, requiring precise 45-degree jerks of the thumbstick, is built on a foundation of frustration and challenges patience more than legitimate skill. The diving is fun to do, when you get it right, but a pain in the rear when your rhythm goes. Trampoline has a similar mechanism, but somehow seems to play far worse.
There are no licensed athletes appearing in the game, so Sega's developers in Australia looked to lesser lights to put in the national team lists. So it is that New Zealand's first-choice male shot put competitor is a chap named Troy Rawhiti-Forbes. If I were a raging egomaniac I'd give this game five stars simply for letting me tick "be a video game character" off my bucket list.
As it is, it comes highly recommended but with a suggestion that once the real Games are over, this game may lose some of its gloss. In Britain, where I'm writing this from, it has been topping the sales charts recently. Expect that to drop once Jacques Rogge declares London's to be the best Olympic Games ever.
It is fair to say though that this is the best Olympics game ever.
Stars: 3.5/5
Platform: PS3, Xbox 360
Rated: G