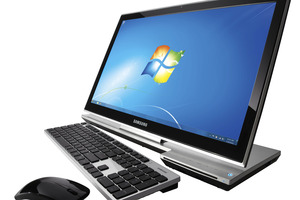 Samsung might be a new entrant into the ultra competitive all-in-one PC market, but its first foray, the Series 7, is pretty striking and raises the bar by packing some truly nifty features. Having chosen a uniquely Samsung look, the Series 7 is a standout in a market crowded with umpteen bazillion "me too" machines.
Look and Feel
The Series 7, makes use of a crisp, squareish brushed alloy finish to give it a clean, and dare I say it, uncluttered look. That Samsung have also wisely chosen not to mar this design with garish controls and ugly ports, but have instead sensibly opted suitably subtle touch sensitive controls, also hiding ports from view (by shifting them to the rear of the machine). Practicality issues aside, it really works to deliver a crisp clean looking PC that'll be more than at home in a variety of settings.
Being an all-in-one beast, the Series 7's overall foot print is tiny, with virtually everything integrated into its largest component, its 23" LCD screen.
This of course makes it a great choice in situations where space is at a premium (e.g. apartments, boats or dorm rooms and studies). About the only (albeit minor) design transgression I was able to find involved the slot loading optical drive, which protrudes slightly from the underside of the screen, making for awkward placement of both the mouse and keyboard. This said, it is a minor issue the other features of the series 7 more than make up for this.
On a more positive note, the series 7's screen also sports some incredibly responsive touch capabilities (which is especially great news with Windows 8 on its way). Better still, the entire screen can be laid down flat to make an already decent all-in-one PC into a stunning touch surface or tablet on growth hormones. This is of course very cool and transforms games such as top down RPGs, effectively giving the user a 23" tablet. At the end of the day the design of the Series 7 was pretty compelling and Samsung appear to have managed that all too rare feat of combining form and function with strong visual appeal.
Using a screen that lies flat is an interesting experiment. Games like air hockey or tennis type games become a whole lot more sociable, interestingly this also meant that the Series 7 was often relocated where multiple people can gather around its lie flat screen. If by now you're getting that I liked the touch screen functionality, you'd be 110 per cent right, did I also mention that frequent screen cleaning is downside to owning touch screen tech?
In Use
Having cracked touchy feely computing, Samsung's Touch Launcher environment really shines. Anyone who has spent any amount time with HP's TouchSmart Suite will be instantly familiar with the Touch Launcher, which makes Windows 7 extremely touch friendly.
Samsung have chosen to keep pre-installed shovel ware apps to a sensible minimum, which in concert with the bundled Touch Launcher makes for a far cleaner and uncluttered design. Key to achieving this is the Touch Launcher sidebar which has a clock, weather app, to-do list, and a multitude of other app shortcuts. Driving the sidebar will be instantly familiar to anyone who's ever used an Android, Windows or Apple touch screen Smartphone.
One of the least noticeable features of the Series 7 is the row of touch buttons on top of the optical drive assembly. These cover basic functions such as optical drive eject, brightness and volume control, display menu as well as source toggling between the PC and the HDMI input (which can handily let you use the 23" screen with other HDMI connected widgets), as well as firing up the Touch Launcher environment. Using Touch Launcher also handily means that you don't have to use the bundled mouse and keyboard (this was definitely a good thing because try as I might I couldn't get the bundled keyboard or mouse to work with the review unit). Unfortunately the Series 7's buttons don't light up or change colour when activated, which makes the Series 7 somewhat tricky to use in a darkened room as a media PC.
Specs-wise the Series 7 is powered by a Core i5 CPU, which is more than adequate for general computing and media consumption, rather than gaming. Whilst Samsung have provided a roomy 1TB hard drive, there is thankfully a Radeon HD6470M graphics card baked in, but only a DVD +/- R/RW drive instead of a DVD/Blu-ray combo drive. Oh well.
Touchy feely goodness aside, Samsung's decision to keep ports (and therefore cable clutter) relegated to Series 7's rear also earns them brownie points. The selection of ports include an HDMI input and output (which as mentioned above gives the user the ability to add an extra display and external video hardware). There's also a smattering of USB 2.0 jacks plus a single USB 3.0 port and last (but by no means least) a pair of audio sockets.
Verdict
Samsung has crafted a good all-round all-in-one desktop machine which given its touch credentials should shine with Windows 8. That Samsung has pushed beyond the standard shiny Tupperware School of design to build an all-in-one that is both easy to use and great to look at makes the Series 7 is a great choice for most users.
Tech Specs: Samsung Series 7
RRP: $2,299
OS: Windows7 Home Premium (64-bit)
CPU: Intel Core i5-2390T (2.7GHz)
Display: LCD 23.0" LED backlit (1,920 x 1,080) 16:9 Touchscreen
Size: (WxDxH) 562.3mm x 213.0mm x 382.0mm
Weight: 8.29kg
Graphics: AMD Radeon HD6470M DDR3 1GB
Memory: 6GB
HDD: 1TB S-ATA2, 7200RPM, Optical Drive Super Multi Dual Layer DVD
Integrated Camera 1.3MP HD Web Camera
Networking: (Wired) Gigabit Ethernet, (Wireless) 802.11b/g/n, (Bluetooth) Bluetooth 3.0
I/O Ports: HDMI 1 x HDMI-in, 1 x HDMI-out, Analogue Audio Out/In, 1 x USB 3.0, 4 x USB 2.0
Multi Card reader: SD, SDHC, SDXC, MMC