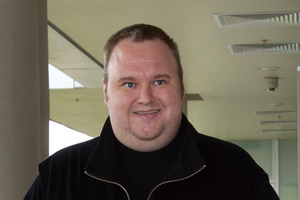 Megaupload millionaire Kim Dotcom is planning to lodge a complaint against "excessive police action'' and wants the return of computers containing CCTV footage of the raids on his mansion.
Dotcom is back at the High Court in Auckland today to seek a judicial review of the legality of the search warrants used by police who raided his mansion on behalf of the FBI.
The US Government is seeking to extradite Dotcom and three New Zealand-based associates on charges including copyright infringement and wire fraud relating to the file-sharing website Megaupload. Prosecutors allege a "mega conspiracy''.
Dotcom denies the charges and says his website was legitimate.
His lawyer Paul Davison QC said Dotcom wants a digital copy of his computers back.
Mr Davison told the court the 135 computers and hardrives seized contained details of Dotcom's security system.
He described the raids on Dotcom's multimillion-dollar rented Coatesville mansion in January as "excessive police action''.
He said Dotcom had a sophisticated high-definition security system that would have captured the police raids on 10 external cameras.
"One camera at the gate was smashed by police.''
Mr Davison said officers abseiled out of helicopters to make an "urgent, sudden'' surprise raid.
"And that was just the beginning.''
He said the CCTV images were crucial to the complaint but they were held on hardrives seized by the police.
Mr Davison said other hardrives included private information and family home movies that went back decades.
He said the police search warrants allowed them to carry out a "wholesale sweep'' of electronic equipment.
"This was just a household emptied out.''
Justice Winkelmann said it appeared police could not access information on Dotcom's computers which was coded and encrypted information.
Mr Davison said Dotcom was prepared to provide access words and passwords under a "judicially supervised process''.
"We are talking, Your Honour, about many thousands of emails and there's just been a handful selected by the US Government in their case.''
He said Dotcom has had assets frozen and now could not access his computers which will help him defend the charges.
"These are libraries of documents - the data storage ... Do you take a whole library when you are looking for a book?''
Mr Davison said his client was protected by New Zealand Common Law and the Bill of Rights Act.
Dotcom faces an extradition hearing in August when Crown lawyers - on behalf of the US government - will seek to have Dotcom flown to the US to answer copyright infringement charges.
The hearing continues.
- APNZ