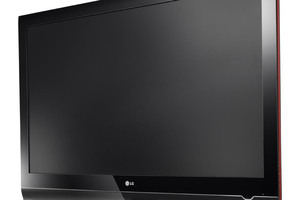 Mary Beth Breckenridge speaks to technology consultant Janna Robinson about how best to make your television set an aesthetic asset.
Long, long ago - say, back in the 90s - style dictated hiding our bulky TV sets behind doors.
Today TVs are sleek and slim, and we want to show them off.
Incorporating televisions and home theatre systems into our homes in a visible but attractive way has led to a whole new set of decorating challenges - or opportunities, depending on how you look at it. Electronics maker LG has even coined a term for this blending of technology and decorating: "techorating".
The company has hired Janna Robinson, a technology consultant and host of the DIY Network series Hollywood Hi-Tech, as its techorating spokeswoman.
I talked with her by phone recently to get her ideas for making the TV a part of the family rather than an uncomfortable intruder.
Robinson is a pragmatist. Though some people scorn the central role of television in our lives, she recognises a TV is often the centrepiece of a family gathering space.
"You don't want your technology to dominate the space," she says, but you want to work it into the room in a way that optimises its use.
Start by putting the TV where it's comfortable to view, she says.
The usual recommendation is to position the TV so the middle of the screen is at the viewers' eye level, about 106 to 132cm above the floor. But there are other schools of thought, she says, and sometimes the limitations of the room require different placement.
Generally you want to view the TV from a spot that's as close to head-on as possible, especially for 3-D TVs, Robinson says. However, she notes that some TVs are designed to be viewed comfortably from any angle. That's true even of LG's 3-D televisions, she says.
She's a big proponent of mounting the TV on a wall, and she noted that many mounts are available that let you tilt the TV, pull it out from the wall and turn it to improve the viewing angle.
She especially likes OmniMount's Play 40, a mount that allows viewers to move a TV into a variety of positions to make it comfortable for game-playing, exercising and all sorts of uses.
If you choose to set the TV on a piece of furniture instead of mounting it, your options have improved, Robinson says. Even affordable TV furniture is designed to hide components and wires. And even more good news: "It's not as ugly as it was years ago," she says.
Generally plasma TVs provide the best picture, Robinson said, but they're best viewed in the dark.
In a space like a family room that typically has ambient lighting, an LCD or LED television is a better choice, she says.
She suggests treating the TV wall as an accent wall and painting it a dark colour to make the picture pop out. That will create a sense of depth and "make your room look spectacular", she says.
Sound is also an issue, Robinson noted. Sound reverberates in a room with bare walls and floors, she says, so it helps to add an area rug and perhaps drapes to dampen the sound. In a room with lots of upholstered furniture and heavy drapes, on the other hand, the sound can be muffled. In that case, she suggests adding hard materials that reflect sound, such as bookshelves or pictures on the walls.
Luckily, there's no longer a need to run speaker wires all over the place to get surround sound, she pointed out. Some systems have wireless rear speakers, she says, and the quality of wireless sound has improved greatly. Or consider a sound bar, which approximates surround sound without all the speakers, she suggests.
Those simplified forms of audio technology don't require professional installation, but Robinson says choosing the right system can be confusing. She recommends researching options online and asking friends for recommendations.
A big-box store might not provide the best guidance, she says, because salespeople there sometimes have to deal with so many products that they aren't thoroughly educated on specific items.
Be sure to test a system before you buy. Sound is subjective, Robinson said, so trust your own ears instead of relying completely on product reviews or friends' recommendations.
Then have fun with your selections. TV is entertainment, after all.
- AAP