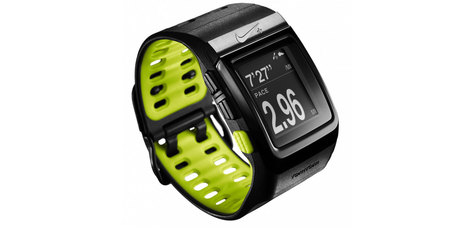 I've been running alongside with Nike+ for what seems like a long time. I can't recall the exact date - not long after my first disastrous marathon I think. It came as a very nice present - a small attachment to plug into my iPod Nano and a disc-type sensor to put in my shoe.
It's 6880 kilometres since I put those two things together and it's been a great partnership. I went through phases of religiously downloading each run into the system and checking my status on various league tables of distance run in a week - comparing myself with runners from across New Zealand and around the world.
I've listened to nerdy science podcasts while pounding trails in the Waitakeres, I've heard new music while training on the streets of Auckland.
Simple, hassle free and pretty much exactly what I've needed. I've investigated GPS units before, but the combination of the distance/run data with my iPod has always won out over flashier devices.
But here's something new from Nike+ : a GPS enabled Nike+ wristwatch. And it works great. Strap it on - push start and start running. There's only three buttons on one side - Scroll up/Scroll down and Select.
Get home, plug it into the computer and there you have all the run data plus a snappy map showing your exact route, with speed updates along the way. The mapping function works well - showing the exact route, with pace and time at kilometre intervals along the way.
The USB plug is cleverly built into the strap - plug this into the computer and it downloads the stored data.
I've only just moved to running with my iPhone - and using the Nike+ app. I am missing the lightweight Nano, but having to plug it into a computer to synch new content now seems old fashioned especially now the home laptop is being fired up less often now that smartphones have taken over home browsing.
So where does this device sit? It obviously doesn't play music but it does what it promises to do very well - track runs with distance, pace, timing and GPS mapping.
Any beefs with the Nike+ GPS watch are more to do with what other devices can do - my Nike+ iPhone app doesn't require any plugging into a computer and I can update music and playlists the same way.
Running is the essence of simplicity - just go out the door and run. And this watch has got me thinking about taking a more 'stripped-back' approach to training for my next marathon - no music or headphones, just a watch that can store all the info I need.
For simplicity and ease of use then, this is a great device - just one thing though - the price. I have seen this being sold for $280 - more than an iPod touch with wifi. A simple running life doesn't come cheap.
PRODUCT FEATURES
• GPS by TomTom + Nike+ Sensor: Run outdoors with GPS, run indoors with the Nike+ Sensor, or use both to capture every step of your run (when running where the GPS signal might be weak).
• Tap Display: Tap the display to activate the backlight and to mark laps during your run.
• Direct Connect: USB contacts molded into the watch strap allowing you to plug the watch directly into a USB port on your computer to upload run data and recharge the battery.
• Water Resistance: up to 5ATM.
• Run Data: Tracks your distance, pace, time, calories burned, and BPM (with compatible HRM; sold separately).
• Includes a History of last 50 runs, and Records, Nike+ personal records.
By Chris Daniels

Email

Chris