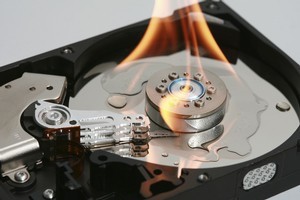 DRIVE SPEED: An international team of researchers has found a way to make your computer hard drive hundreds of times faster than it is now. The key point is that instead of using a strong magnetic field to flip the bits in data they can use an ultrashort heat pulse. The process uses less energy too because it doesn't create a magnetic field. Oh goodie, more heat inside the computer. University of York reveals all.
HIS OWNER'S VOICE: Poor old dog, alone at home all day while you're at work. Perhaps a robot playpal would keep it company? One Microsoft developer used Microsoft Robotics Developer Studio, a Kinect and sundry cameras, speakers, mechanical parts and wheels to build a robot he could operate while at work. The robot throws and retrieves a ball, dispenses treats and plays the owner's voice for the dog. I suspect allowing dogs in the workplace would be more fun for everyone. Engadget has more; and there's video here.
LIFE IN A CAPSULE: The NASA Biocapsule is made of carbon nanotubes and could be implanted under the skin of an astronaut. It's designed to release a substance after being automatically triggered by something like radiation. An astronaut might have half a dozen capsules implanted in their thigh. Each would require only a small incision and a stitch. Each inert capsule could release many metered doses over time. Back on earth these capsules could be used to control diabetes or deliver chemotherapy to a targeted site. It's essentially a magic pill then. Gizmodo has more.
STRETCHY CIRCUITS: If you want to integrate electronics into clothing, or perhaps to wrap a phone around your wrist the gold circuits need to be able to bend and stretch too. In this video you can see how that works, using silicone coated with a very thin layer of gold. And the gold of the circuits could provide the glitter for those stretchy clothes. More at io9 and video here.
MASSAGE SUIT: The Elektrodress is a Swedish invention that may benefit people with nerve disorders, such as Multiple Scelerosis, Cerebral Palsy or Parkinson's. The electrode suit helps the body relax with electronic muscle stimulation and vibration therapy. Once relaxed the wearer can function better and enjoy increased movement. Tweak this to provide massages and it'll be a winner with the general population too. Fashioning Tech has more, and there's video - albeit in Swedish - here.
- Miraz Jordan knowit.co.nz