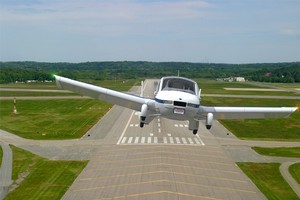 FLY AND DRIVE: Is that a plane in your garage? Terrafugia's Transition vehicle is a 'roadable aircraft'. It's a light-sport aircraft that must operate out of an airport, but it can fold its wings, shift power from the propeller to the rear wheels and drive on the roads. It includes such car safety features as airbags and crumple zones. It's intended to allow you to drive from home to the airport, fly to an airport near your destination and then drive the rest of the way. It uses petrol rather than aviation fuel. That vehicle idea just might fly. Details at CCN and video here.
WIRELESS OLYMPICS: The 2012 London Olympic and Paralympic Games will be challenging in many ways, not least of which is the demand for wireless connections. With more than 26,000 members of the press expected to attend there's an enormous demand for wireless for broadcast use. Ofcom, the provider, will be borrowing spectrum from the Ministry of Defence and taking over whitespace freed up by turning off analogue TV.
Hey folks, keep in mind that every single spectator also plans on using wireless to live tweet the events. More at the BBC.
BIG PHISH: The big email providers want to clean up emails, especially spam and phishing. To that end they're collaborating on Domain-based Message Authentication, Reporting & Conformance, a specification for email authentication. Contributors include Google, AOL, Facebook, PayPal, Microsoft and Yahoo. Anything anyone can do to help kill off spam is a welcome contribution. More details at dmarc.org.
SMART GPS: Microsoft's Pedestrian Route Production will combine data from GPS, weather reports, crime statistics and demographics. Then it will advise users on routes that avoid dangerous parts of town, bad weather and difficult terrain. Will it also stop people from blindly driving into rivers because the GPS showed that was the way to go? Details at npr.org.
SHOECAM: The Bootstrapper project at the Hasso Plattner Institute in Potsdam, Germany uses cameras below a table to record people's feet. It's not just any table though, but a touchscreen table being used by more than one person. The system identifies shoes and matches the wearer to actions on screen using arm position as a guide. The system is wide open to spoofing — a user could wear the same shoes as someone else. But it could be an adjunct to other more cumbersome techniques for tracking multiple touchscreen users. And maybe the shoes could include some kind of double authentication token too. Technology Review has more here.
- Miraz Jordan knowit.co.nz