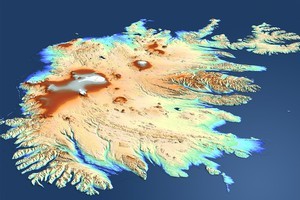 3D EARTH: The German Earth observation satellites TanDEM-X and TerraSAR-X have completely mapped the entire land surface of Earth for the first time. The data is to create a high-precision, 3D digital elevation model of Earth. The radar system views the ground from two different points in space only around 150 metres apart. Analysis creates an exceptionally accurate, global and homogeneous 3D elevation model. Since different land areas reflect or absorb the radar signal differently the satellites need to make several passes to acquire all the data they need. Now they should combine that with Google Maps. More at DLR German Aerospace Centre.
STACKED CHIPS: A new CMOS image sensor from Sony is more compact than previous CMOS sensors and captures better quality images, even in low light. The new sensors will be useful for small devices such as cellphones, especially since they are also faster and draw less power.
These benefits all derive from a new stacked arrangement of the components. It's all in the way you hold the sensors. Details at Sony.net.
DOG MEET SNAKE ROBOT: A robot snake with a camera can help rescuers see what's going on inside piles of rubble or other disaster scenes. But how does it get there? One delivery mechanism is a rescue dog. The camera's strapped under the dog in a special harness. When the dog finds a human it barks. That releases the robot snake so it can explore the area, sending images back to base. And then how does the snake robot get out again? IEEE Spectrum has details here and there's video here.
CIRCULAR SCAN: Taking a photo of an object is one thing. A 3D representation is another. The OrcaM Orbital Camera System from NEK in Germany combines the two into a system to digitise objects. An object up to 80cm in diameter and weighing up to 100kg is placed inside a spherical scanner that uses special patterns of lights. Multiple cameras capture images then software reconstructs a 3D geometry. The digitised images could be used on the web, in computer games or even in movies. Isn't the whole 3D thing already covered in movies? NEK has more, and there's video here.
ROAD BLOCK: The Scosche cellCONTROL is a small device that uses Bluetooth to block calls as soon as a vehicle begins moving. Users activate the system online and download an app to their phone. Then they install a small trigger unit into the vehicle. As soon as the vehicle is in motion the unit blocks drivers from being able to text message, email or make phone calls unless a handsfree headset is detected by the mobile device. Tampering or misuse are reported to an administrator. Sounds good, if it still leaves passengers able to make calls. More at Autoblog.
- Miraz Jordan knowit.co.nz