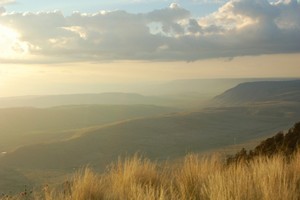 Lifestyle downsizing has already become an eco-trend and these hotel rooms designed by Gracia Studio, set in beautiful Mexican surrounds, apply the same philosophy to vacation accommodation. Each studio is 20 square metres, perched like sentries atop stilts on the hillside of Valle de Guadalupe. The design utilises difficult terrain, without dominating the landscape, and each offers spectacular views. There's even a small patio to build a fire and enjoy some fresh air.
Hummingbird spys
Keep your eyes peeled for incongruous hummingbirds because you could be the subject of some covert urban surveillance. A recently developed Nano Air Vehicle, modelled on a hummingbird, is among the latest military technology for national security in the U.S. It will relay a live video stream to its users and has impressive hover endurance without external power.
Until they model one on a fantail, I think New Zealand is safe from hummingbird spies.
Seen at Ubergizmo.com. Via Gizmodo.com.
Printed human tissue
Research at EPFL in Switzerland could usher in an era of printed human tissue, which can be used to create artificial cells. By studying the relationship between cells and their extracellular matrix, the researchers hope to eventually create a biological ink. This technology could make testing new drugs much easier, even minimising the requirement for animal testing.
Via MNN.